Traditions and rituals among the Saint Thomas Christians of Kerala
Authored by NSC- Admin on Friday, January 12, 2007 8:08 37 Comments
Traditions and rituals among the Saint Thomas Christians of Kerala
Saint Thomas Christians were often referred by the traditional name Nasranis.
1. Nasrani
The term Nasrani or Nazrani is derived from an Arabic word Nazraya, which means Nazarene or Christian.1.
Another possibility is that Nasrani comes from Arabic word Nazranya, which is derived from Greek Nazarenos. The word Nazarene might have been derived from Hebrew word, Nazer. The Syriac speaking Churches retained Nazraya in Syriac, and Nasran in Armenian, while the name ' Christians' given by the gentiles in Antioch ( Acts 11: 26:28:1 Pet 4:16) eventually replaced Nazarene, as the designation of the Greek and Latin speaking Church2
2.Social Life of the Syriac Christians of India
This article examines some of the traditions, rituals and social life among Nasranis. Most of these traditions and rituals exist even today among the community.
Syrian Christians were a highly mobile occupational and geographical group, whose main occupation were in Agriculture, Commerce and Military Service. It appears that Syrian Christians had a long cultivating past of warrior skills and serving the local ruling groups.
The ability and usefulness of the first Christian groups were recognized not only by the grant of land by local rajas but by the grant of concessions and privileges recorded on copper plates. They were given charge of the collection of revenue for the rajas in certain places. They controlled the lucrative pepper trade industry and in Quilon and other ports acted as brokers and port revenue officers.
In the fourteenth century, Marignolli found that they were in charge of the public weighing office in the Quilon Customs.
The ruler of Venad ( Travancore) granted Syrian Christians seventy two rights and privileges usually granted only to high dignitaries, including exemption from import duties, sales tax and the slave tax. A copper plate grant dated AD 1225 further enhanced the rights and privileges of Nasranis.
Marthanda Varma reported to have recruited several thousand Syrian Christians in to his army during his campaign of conquest in North Travancore. Travancore state trading monopolies depend heavily on the skills of experienced Nasrani traders based around important market towns like Kanjirapally, Mavelikara, Chertalai. These traders played important roles in processing pepper and forest based commodities for export. In Cochin Syrian Christian prelates participated in the installation ceremonies of rulers.
During absence of prelates from Mesopotamia they looked at local rulers and kings to adjudicate disputes or renew the authority of their metrans. It appears that a gradual inculturation of Hindu themes embodied among Nasrani culture during the process.
During the course of time some Hindu traditions has also become an integral part of Christian rituals making significant life events. Milk boiling ceremony that take place during the blessing of a newly built house, the groom tying a golden jewellery called minnu ( thali- cross- the thread for the minnu are taken from the wedding cloth ) around brides neck during the marriage ceremony and the yearly celebration of sradham feast commemorating the death of a relative are some of them.
When an immediate family member is dead, the family was considered under pollution until a special feast called Pulakkuli was given, which took place a few days after the funeral, usually ten days as with Namputhiris, but among the Southists it was after eight days.3
In some areas the ties with Hindus and Nasranis were reciprocal each taking part and having roles at both Hindu and Christian festivals. In some areas Christian Churches and Hindu temples were constructed on virtually adjoining sites. In due course some of the Christian churches resembled Hindu temples from outside and Jewish Synogue from inside.
Their liturgy was in Syriac, their prelates looked to Mesopotamia for conformation, their clergy ( kattanars and metrans) presided over their rituals such us celebration of feast days and Eucharist.
3.Traditions and rituals among the Saint Thomas Christians of Kerala
1. The symbol of the Nasranis is the Persian cross, also called as Mar Thoma Sleeba in Malayalam.It is not very clear from which century onward this cross was in use. According to J Raulin, up to 16th century, the Saint Thomas Christians did not use any other image except the Saint Thomas Cross in their Churches.4
2. Covering their heads while in worship. This is tradition among the Jewish descendents of Abrahamic religion. This is observed by the entire Nasrani people until this day.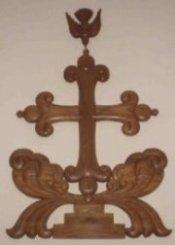 3. Their ritual services (liturgy) was and still is called the Qurbana (also spelled Kurbana), which is derived from the Hebrew Korban (קרבן), meaning "Sacrifice".
4. The Nasrani Qurbana used to be sung in the Suryani (Syriac) language. Until 1970s most of the churches followed Syriac liturgy.
5. The architecture of the early church reflected a blend of Jewish and Kerala styles.
6. Pesaha, the ritual supper which is the narration of the Paschal event is celebrated amongst Saint Thomas Christians. The observance of Pesaha at home is an unbroken tradition which only the Saint Thomas Christians has in the whole Christian world. It is the real Paschal catechesis in the families.5
7. The Churches has a separate seating arrangement for men and women.
8. Many of the tunes of the Syrian- Christian worship in Kerala are remnants of ancient Syriac tunes of antiquity.
9. The "Holy of Holies" is divided by a red curtain for most of the time and is opened during the central part of the Qurbana.
10. The Baptism is still called by the Hebrew-syriacterm Mamodisa and follows many of the ancient rituals of the ceremony. In 20th century it is referred to in Malayalam as njana Snanam (Bath of Wisdom).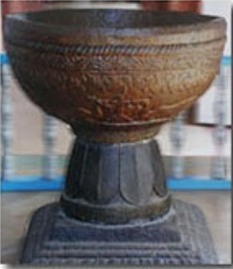 11. Most of the Nasrani's even today use Biblical names like Jews. Biblical names along with Greek, Armenian, Syrian names are the popular names in Nasrani Community through out existence. They prefix and suffix Kerala names to these traditional names. The naming convention is also seen among the Sephardic Jews, whose customs may have been imbibed by the Syrian Christians in Kerala.
12. Immediately after a Child was born, a priest or male relative would shout in the child's ear ' Maron Yesu Mishiha' ( Jesus Christ is Lord ) and the child would be fed with three drops of honey in which a little gold had been rubbed.
13. Another surviving tradition is the use of "Muthukoda" (ornamental umbrella) for church celebrations, marriages and other festivals. This can be traced back to a Syrian Christian Aristocrat Mar Sapir Iso who lived in the ninth century. Even today traditional drums and Arch decorations and ornamental umbrella are part of the church celebrations. Because of the harmonically co existence of religions in Kerala this became quite popular with other communities also.
14. Saint Thomas Christians were given the right to access Hindu temples and sacred territory. Some prominent Nasranis were patron and sponsors at Hindu temple festivals. They also acted as pollution neutralizers.
15. Nasranis and Hindus maintained their individuality in Kerala aware of and accepting similarities and differences. Boundaries between Christians and Hindus are blurred in some cultural sphere such us house building, astrology, birth and marriage ( use of sandalwood paste, milk, rice and areca nut)
16. The inner life of Nasranis is significantly ordered by liturgical obligations and by its specifically Christian ethics. Death rituals express Christian canonical themes very distantly especially in the ideas concerning life after death and the anticipation of final judgment.
17. Christians were also given some honorific titles. "Taragan" is a word derived from the word for tariff. "Panikkar" denotes proficiency in military training. The most common name of the Christians were Nasrani Mappila's.
18. The Church of Saint Thomas Christians accepted the East Syriac liturgy from an early period and along with the liturgy, the systems of ecclesial government, such as Metropolitan, Archdeacon and Yogams had their organic development in relation with East Syriac Churches.
Books to read further :
Kerala Kristiya Sahityam by Dr. P J Thomas
The Anthropology of the Syrian Chrisitans by Ananta Krishna Ayyar
The Indian Christians of Saint Thomas by Leslie Brown
_____________________________________________________________________________
Author can be reached on admin at nasrani dot net
Last Update – 05/09/2009. I have re arranged this article and statements about Sabbath etc were removed as sources were not find authentic.
_____________________________________________________________________________
Footnotes
37 Responses
Participate – Your opinion-Leave a Response
NSC NETWORK is a non moderated forum. All are welcome to participate in the debates. We encourage comments, critiques, questions, additional information,corrections and suggestions. We also encourage participants to provide answers/ideas to questions raised on articles or on posts/comments.Links/Videos/Pictures of value to readers are most welcome.

We request that please stay on topic, respect other people's opinions, avoid profanity, offensive statements or anything else that might otherwise violate our policy. Please understand that we reserve the right to edit or delete posts/comments for any reason we deem appropriate. By submitting a post/comment here you grant this site a perpetual license to reproduce your words and name/web site in attribution.

Please note that NSC Network may, in our sole discretion, reject posts/comments for any reason we deem appropriate. Please try to post on relevant discussions and we may in our discretion move discussions to relevant threads.