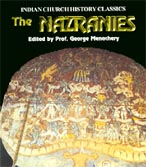 Notes about the Editor
Prof. George Menachery is a freelance Indian Journalist and Editor of the St. Thomas Christian Encyclopedia of India and the Indian Church History Classics. After teaching university classes for thirty years, he gave up the job as Head of the Department of Post-Graduate Teaching in order to concentrate on research and publication. SARAS (South Asia Research Assistance Services) provides information and research assistance for topics dealing with India in particular and South Asia in general. He has to his credit a large number of publications, research papers, articles, radio talks and TV programmes. His research activities and lectures have taken him to more than 20 countries in 4 continents.
About The Nazranies
" The Nazranies " is Volume I of Indian Church History Classic series .The Indian Church History Classic series contains three volumes. Volume I is " The Nazranies" Volume II is "The Catholics" ( other than the Nazranies) and Volume III The Christians (other than the Nazranies and the Catholics).
The Nazranies is an whole library containing 15 costly, most oftquoted books plus lengthy extracts from 22 more describing the origins, history, culture, personalities, divisions and unions, spread, vicissitudes, and achievements of the unique Nazraney Christians.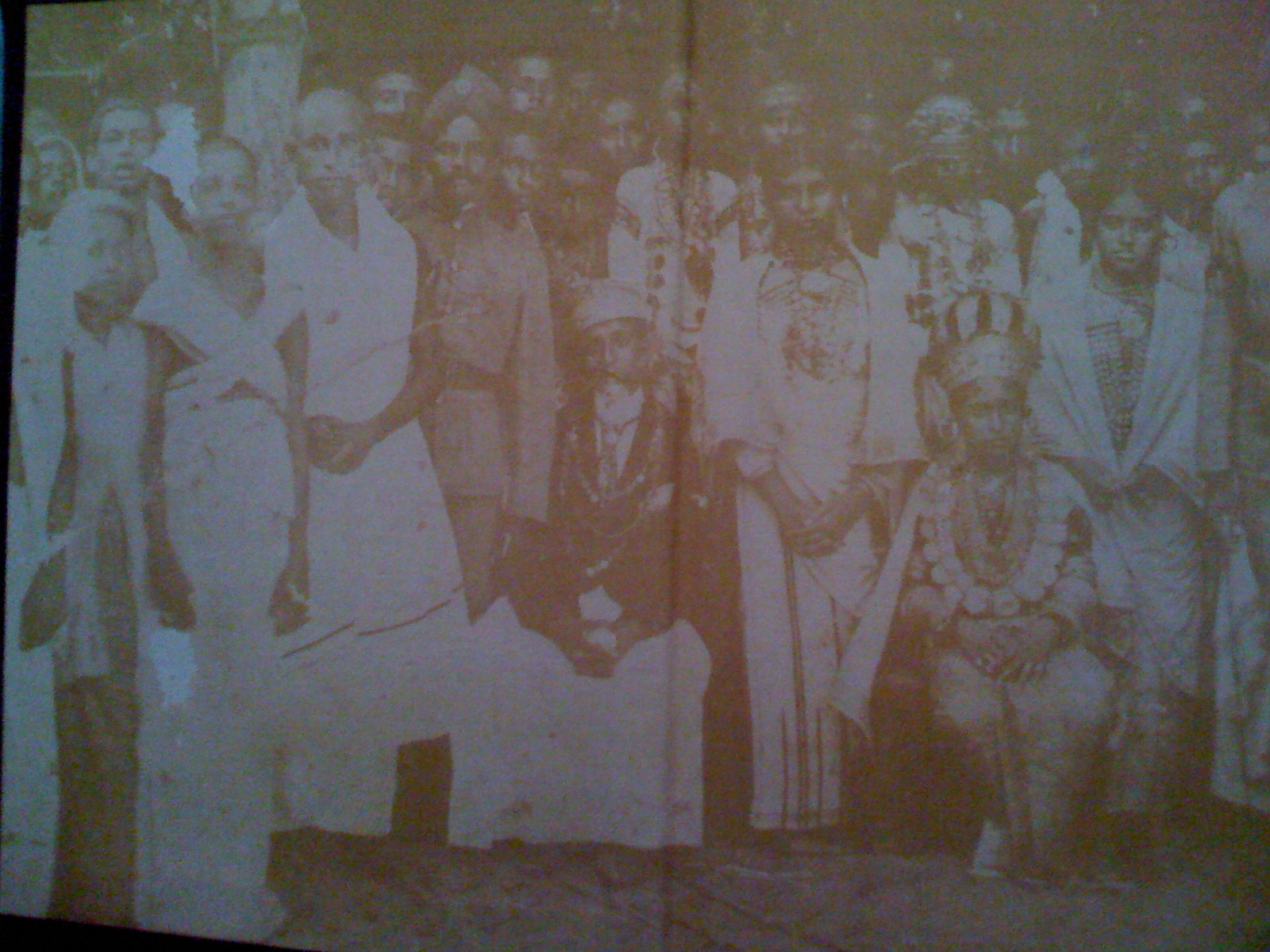 There are perhaps only a dozen or so usable copies of most of these works now available in the whole world. This volume is being brought out at 'the specific request of many libraries and scholars who would like to have their own complete, uncut copies of these It provides a rare chance collections.
The volume contains special introductions to each individual work/author by scholars who have devoted a lifetime to the study of these works. For example Dr. Mundadan introduces the work of Medlycott while Dr. Vellian introduces the twin volumes of Farquhar.
Books reproduced in full:
• GEDDES: A short history of the Church of Malabar together with The Synod of Diamper.
• G.T. MACKENZIE: Christianity in Travancore.
• GEORGE CATHANAR: The Orthodoxy of the St.Thomas Christians.
• MEDLYCOTT: India and The Apostle Thomas.
• A SYRIAN CATHOLIC: A Synopsis of the history of the Syrian Church in Malabar.
• PANJIKARAN: The Syrian Church in Malabar.
• BERNARD: A Brief Sketch of the History of the St. Thomas Christians.
• FARQUHAR: The Apostle Thomas in North India.
• FARQUHAR: The Apostle Thomas in South India.
• D'CRUZ: St. Thomas the Apostle in India.
• PLACID: The Syrian Church of Malabar.
• JOB: The Syrian Church of Malabar.
• KAITHANAL: Christianity in Malabar.
• DANIEL: The Syrian Church of Malabar.
• JUHANON MAR THOMA: Christianity in India and the Mar Thoma Syrian Church.
Lengthy extracts included from:
• ADRIAAN MOENS: The Dutch in Malabar.
• JAMES HOUGH: The History of Christianity in India.
• FRANCIS DAY: The Land of the Permauls or Cochin its past and its present.
• C.M.AGUR: Church History of Travancore.
• LADISLAS-MICHEL ZALESKI: The Apostle St. Thomas in India.
• J.N. OGILVIE: The Apostle of India.
• W.S. HUNT: The Anglican Church in Travancore & Cochin.
• GILLE A.: Christianity at Home.
• K.P. PADMANABHA MENON: History of Kerala.
• K.M. PANIKKAR: Malabar and the Dutch.
• L.K. ANANTAKRISHNA AYYAR: Anthropology of the Syrian Christians.
• A. MINGANA: Early Spread of Christianity.
• JOHN STEWART: Nestorian Missionary Enterprise.
• H. HOSTEN: The Song of Thomas Ramban.
• GEORGE SCHURHAMMER: The Malabar Church and Rome during the
Portuguese period.
• P. CHERIYAN: The Malabar Syrians and the Church Missionary Society.
• H.HOSTEN S.J.: Antiquities from San Thome and Mylapore.
• H.W. CODRINGTON: Studies of the Syrian Liturgies.
• D. FERROLI, S.J.: The Jesuits in Malabar.
• GERARD GARITTE: The Georgian Narrative of the Martyrdom of St. Thomas.
• S.S. KODER et al: The Cochin Jews.
• ALEXANDER MAR THOMA: The Marthoma Church Heritage and Mission.
CONTENTS BRIEF
1. List of Classics
2. List of Extracts
3. A Chronology
4. General Bibliography
5. Some study aid materials
6. Editors Jottings
7. Special Introductions
8. Illustrations, Maps, Tables, Art works, Pictures ( more than 1000)
THE NAZRANIES : A ROUGH CHRONOLOGY
30 The Crucifixion.
40s Apostle Thomas in the service of King Gondaphares in Takshasila
52 Nov 21 St. Thomas, the apostle, landed at Cranganore (Kodungalloor, in the present Thrissur District)
52-72 The Apostle builds 7 churches: Palayoor, Kodungaloor, Parur, Kokamangalam, Niranam, Nilackal, Kollam.
72 Jul. 3 Martyrdom of St. Thomas in the vicinity of Mylapore, Madras.
98-117 Mesopotamia and Assyria become Roman provinces.
190 Pantaenus, probably the founder of the famous Catechetical School of Alexandria, visited India and the Nazranies.
232 Sassanians become a major power.
325 Archbishop John, of Persia and Great India, at the first Ecumenical Council of Nicea.
345 Thomas of Cana from Persia landed at Cranganore with 72 families of immigrants.
340-360 By the Thazhekad Sasanam the Nazranies granted special rights and privileges.
400 North Pudukkad church founded.
480 St. Hormis church, Angamaly founded.
500 Enammavu church founded.
503 St. George church, Edappally founded.
510 Udayamperore (Diamper) church built.
522 Cosmas Indicopleustes visits South India.
570 Birth of Mohammad, Prophet of Islam in Mecca.
825 Mar Sabor and Mar Proth at Quilon.
849 King Ayyanadikal of Venad, by the Tharisappalli copper plate grants reconfirms the 72 royal privileges of the Nazranies.
883 King Alfred's envoys Sighelm and Aethelstan conveys alms to St.Thomas in India.
1293 Marco Polo, a Venetian traveller, visited the tomb of St. Thomas (at Mylapore), and Kerala.
1324 Oderic the Italian Franciscan speaks about Mylapore.
1329 Aug.9 Jordan Catelani appointed first bishop of the diocese of Quilon created by Pope John XXII.
1348 The Papal representative John Marignoli at Quilon.
1439 Pope Eugene writes to Thomas, Emperor of the Indians.
1490 Two Chaldean bishops John and Thomas in Kerala.
1493 May 4 Division of the world and mission lands between Spain and Portugal by Pope Alexander VI.
1498 May 20 Vasco de Gama lands at Kappad near Kozhikode.
1499 Cabral at Kozhikode.
1500 Nov 26 Franciscan Friars at Cochin.
1502 Nov 7 Vasco de Gama at Cochin.
1503 Dominican Priests at Kochi.
1503 Mar Yabella, Mar Denaha and Mar Yakoob in Kerala.
1503 Sep 27 Work commenced on Cochin Fort and the Santa Cruz church .
1514 Portuguese Padroado begun.
1514 Jewish migration from Kodungalloor to Kochi.
1514 Jun 12 Portuguese Funchal rule over Christians in India.
1524 Dec 24 Vasco de Gama buried at St. Francis Church, Fort Cochin.
1534 Nov 3 Goa Diocese errected. The Parishes of Kannur, Cochin, Quilon, Colombo and Sao Tome (Madras) belonged to it.
1540 The Franciscan Fr.Vincent De Lagos starts the Cranganore Seminary.
1542 May 6 St. Francis Xavier, Apostolic Nuncio in the East, reaches Goa.
1544-45 St. Francis Xavier in Travancore.
1548 Dominican Monastery founded in Cochin.
1549 Mar Abuna Jacob, A Chaldean Bishop, stayed at St. Antonio Monastery, Cochin.
1550 First Jesuit House in Kochi.
1552 Dec 3 Death of St. Francis Xavier.
1555 Mattancherry Palace was built by Portuguese for the King of Cochin.
1557 Pope Paul IV erects the Diocese of Cochin. Canonization process of Francis Xavier begun at Cochin.
1565 Archdiocese of Angamaly erected.
1567 Jews shifted Mattancherry.
1568 Synagogue of White Jews built in Cochin.
1577 Vaippicotta Seminary of the Jesuits started.
1579 Augustinians reached Cochin.
1583 Synod at Angamaly by Bishop Mar Abraham.
1597 Bishop Mar Abraham, the last foreign Archbishop, died and was laid to rest at St. Hormis church, Angamaly.
1599 Dec 20 Fr. Francis Roz was declared bishop of Angamaly.
1599 Jun 20-26 Archbishop Alexis Menezes convenes the Synod of Diamper (Udayamperoor).
1600 Aug 4 Padroado rule imposed on Nazranies.
1601 Francis Roz was appointed as the first Latin bishop of the St. Thomas Christians.
1609 Dec.3 Erection of the Diocese of Cranganore. The Archdiocese of Angamaly suppressed.
1610 Dec 22 The Metropolitan of Goa limits the Pastoral Jurisdiction of Nazranies to Malabar.
1624 Dominican Seminary at Kaduthuruthy.
1626 Feb 5 Edappally Ashram started for the Religious Community of St. Thomas Christians
1652 Aug 23 Mar Ahathalla in Madras, not allowed to enter Kerala.
1653 Jan 3 Coonan Cross Oath at Mattancherry, Cochin.
1653 May 22 Mar Thoma I ordained bishop at Alangad by the laying of hands by 12 priests.
1657 Apostolic Commissary Joseph of St. Mary OCD (Sebastiani), a Carmelite, in Malabar.
1659 Dec 3 The Vicariate of Malabar is erected by Pope Alexander VII.
1659 Dec 24 Joseph Sebastini bishop and appointed the Vicar Apostolic of Malabar.
1663 Jan 6 The Dutch conquer Cochin and destroy Catholic churches and institutions in Cochin, except the Cathedral and the chruch of St. Francis Assisi.
1663 Jan 31 Mar Chandy Palliveettil is consecrated the first Vicar General of the Malabar Vicariate by Bishop Mar Joseph Sebastiani.
1682 Seminary for Syrians at Verapoly.
1686 Hortus Malabaricus in 12 volumes printed in 17 years.
1687 Jan 2 Bishop Mar Chandy Palliveettil expires.
1700 Feb 20 Fr. Angelus Francis, a Carmelite, is appointed as the Vicar Apostolic of Malabar.
1709 Mar 13 Vicariate of Malabar is suppressed and the Vicariate of Verapoly is erected by Pope Clement XI.
1772 First Malayalam book Sampskhepa Vedartham (Rome) by Clement Pianius.
1773 Pope Clement XIV suppresses the Jesuit Order, except in Russia and Prussia.
1782 Dec 16 Kariyattil Joseph elected Archbp. of Cranganore; Consecr. Lisbon 1783; Died Goa on the way back to Malabar,9th Sept. 1786.
1785 Varthamanappusthakam, the first written travelogue in India by Paremakkal Thomma Kathanar.
1795 Oct 20 Conquest of Cochin by the British.
1818 C.M.S missionaries in Kerala.
1838 Apr 24 Dioceses of Cochin and Crnaganore are annexed to the Vicariate of Verapoly.
1838 The Queen of Protugal suppressed all religious Orders in Portugal and in her mission lands.
1840 Apr 10 St.Thomas Christians came under the archdiocese of Verapoly.
1861 May 20 Bishop Rocos sent by the Patriarch of Chaldea reaches Kerala.
1867 May 7 Property donated by Syrians to the King of Portugal to start a Seminary at Aluva. It was administered by the Diocese of Cochin.
1867 The Portuguese Missionaries start a seminary at Mangalapuzha for Syrian students.
1874 Bishop Mar Elias Melus sent by the Patriarch of Chaldea reaches Kerala – Melus Schism.
1876 The "Marthoma Church" comes into being — Palakkunnathu Mathews Mar Athanasious.
1876 Sep 19,20 Ollur Conference. The Apostolic Visitor Leo Meurin attends the conference.
1886 The Archdiocese of Cranganore is suppressed.
1886 Sept 1 Erection of the Catholic Hierarchy in India by Pope Leo XIII.
1887 Establishment of the Syro-Malabar Hierarchy by the Brief "Quod Jam Prideus" of Pope Leo XIII. Vicariates of Trichur and Kottayam.
1887 May 19 The St. Thomas Christians are totally segregated from the jurisdiction of the Archbishop of Verapoly and from the Padroado.
1887 May 20 The Vicariates of Kottayam and Trichur reorganized and the Vicariate of Changanacherry, Ernakulam and Trichur were formed.
1911 Aug 29 Pius X restored the Vicariate of Kottayam for the Suddhists of the Syro-Malabar Rite, descendants of the immigrants of A.D. 345.
1917 May 1 The Oriental Congregation is formed by Pope Benedict XV.
1923 Dec 21 Establishment of the Syro-Malabar Hierarchy with Ernakulam as the Metropolitan See, and Trichur, Changanacherry and Kottayam as Sufragan Sees.
1930 Sept 20 Reunion of the eminent Jacobite Archbishop Mar Ivanios, Bishop Mar Theophilus, Fr. John O.I.C., Bro. Aledxander and Mr. Chacko Kilileth with the Catholic Church.
1932 June 11 The establishment of the Syro-Malankara Hierarchy by Pope Pius XI. Mar Ivanios becomes Archbishop of Trivandrum, and Mar Theophilus Bishop of Tiruvalla.
1933 June 1 Puthenpally Seminary is shifted to Aluva.
1950 July 18 The Portuguese Padroado over the Diocese of Cochin (from 1557 Feb. 4 till 1950 July 18) suppressed and the Diocese of Cochin handed over to native clergy.
1950 July 25 Erection of the diocese of Palai by Pope Pius XII.
1952 Dec 28-31 Jubilee Celebration of St. Thomas and St. Francis Xavier at Ernakulam.
1953 Nov 11 Cardinal Eugene Tisserant, secretary of the Sacred Oriental Congregation, visits the Syrian Catholics of Malabar.
1953 Dec 31 Erection of the diocese of Tellichery by Pope Pius XII.
1956 Jan 10 Pope John XXIII raised the diocese of Changanacherry into an Archdiocese with Kottayam and Palai as Suffragan Sees.
1956 July 29 Erection of the diocese of Kothamangalam under the Archdiocese of Ernakulam.
1956 Nov.1 The present 'Kerala State' is established.
1962 Mar.31 Chanda Mission, outside Kerala, for the Syro-Malabar Church.
1962 July.3 Revised Syro-Malabar Liturgy in force. Holy Qurbana in Malayalam.
1969 Mar.28 Archbishop Mar Joseph Parecattil of Ernakulam Cardinal.
1969 May All-India Seminar Church In India Today . T.En. Conceived.
1972 Dec.27, The 19th Centenary of the Martydom of St. Thomas the Apostle is celebrated at Ernakulam under the auspices of Catholic, Jacobite, Marthoma and C.S.I. Churches.
1973 April 7 T.En. published by Carrdinal Parecattil at the Cardinal House Ernakulam. H.H. Moran Mar Augen I Catholicos presided. Also on the dais were Mar Phelexinos, Mar Mankuzhikkary, Mar Pawathil, …
1973 July 3 The Governor of Kerala and the Cardinal release the St. Thomas Stamp and the T.En.II for sale.
1986 Feb. 1-10 Visit of Pope John Paul II to India.
1986 Feb. 8 Fr. Chavara Kuriakose Elias and Sr. Alphonsa are proclaimed blessed by Pope John Paul II.
1988 May. 30 Mar Antony Padiyara of Ernakulam Cardinal.
1992 Dec.16 Pope John Paul II raises the Syro-Malabar Church to a Major Archiepiscopal Sui Juris Church with the title of Ernakulam – Angamaly Quae Majori. His Em. Cardinal Paidyara first Major Archbp.; Archbp. Abraham Kattumana Pontifical Delegate.
1993 May. 20-25 The first synod of the Syro-Malabar Church.
1995 May Trichur elevated to an Archbishopric.
1996 Mar Geevarghese (Varkey) Vithayathil (Major Archiepiscopal) Apostolic Administrator
Media Talk about The NAZRANIES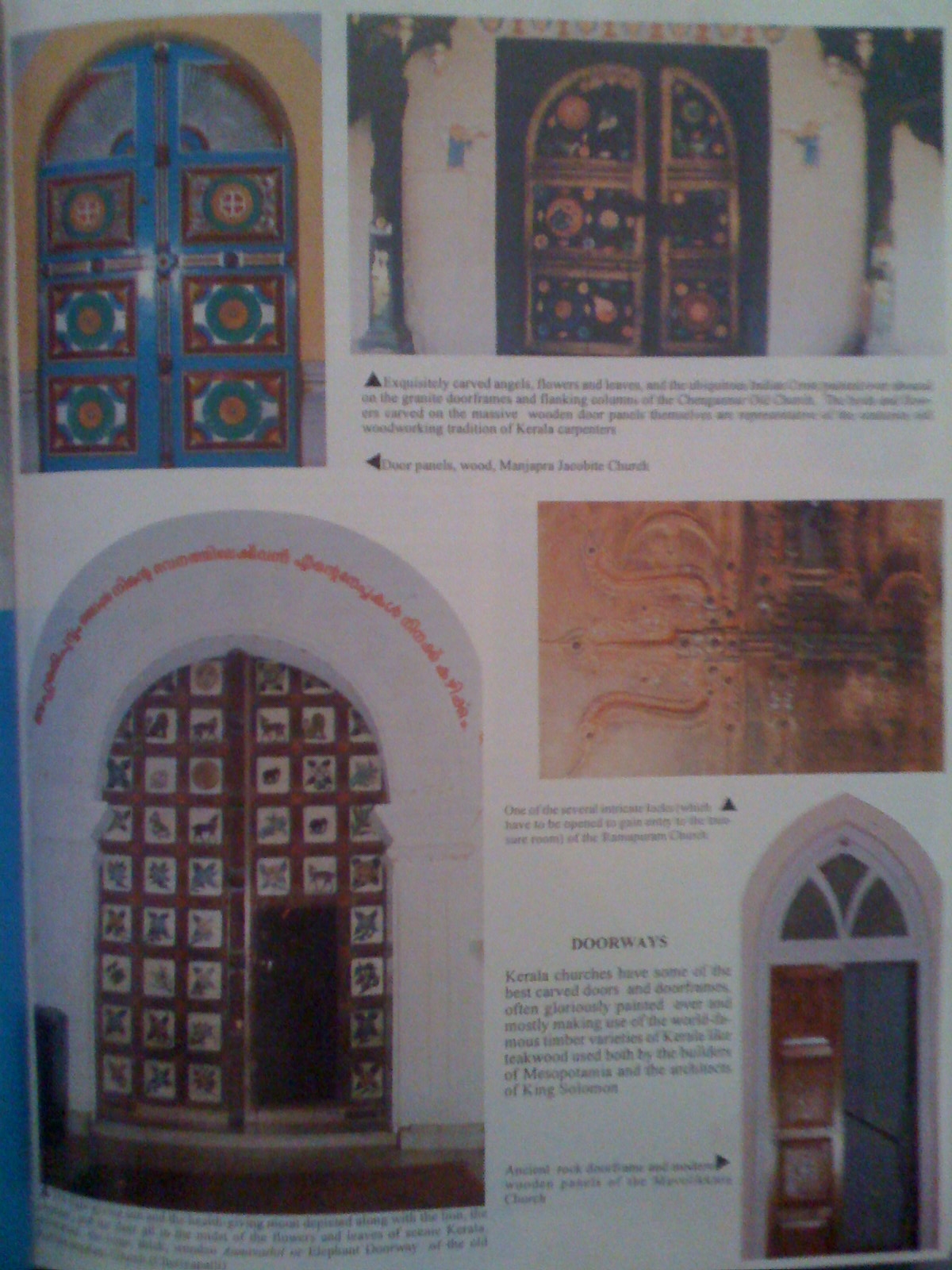 India Today ( October 12,1998)
"A detailed history of the various Christian sects of Kerala. One of those perennial reference manuals"
The Hindu Daily (Tuesday, August 4, 1998)
" This volume attempts to trace back to the source , the traditions, customs,cultural trends and historical insights relating to the Nazranies, i.e the St Thomas Christians of Malabar (Kerala)"
Dr. Mar Aprem – Metropolitian"
…. In addition to the indices, prefaces, dedications etc contained in the original books this volume provides a lengthy general Bibliography and a Chronology. Further each book is introduced by well known scholars. All theological scholars and history Departments of secular Universities should have a copy of this encyclopedic work"
Dr. A.M Mundadan
"Another bold attempt by a person of the calibre of Prof. George Menanchery- a new set of publications under the mast of South Asia Research Assistance Services (SARAS). The professor has already established a name by publishing Vols. 1 & 2 of the St. Thomas Christian Encyclopedia of India- two weighty volumes both in content and style. This volume reproduces 15 classics in full and lengthy extracts from some 22 other such classics."
GENERAL DETAILS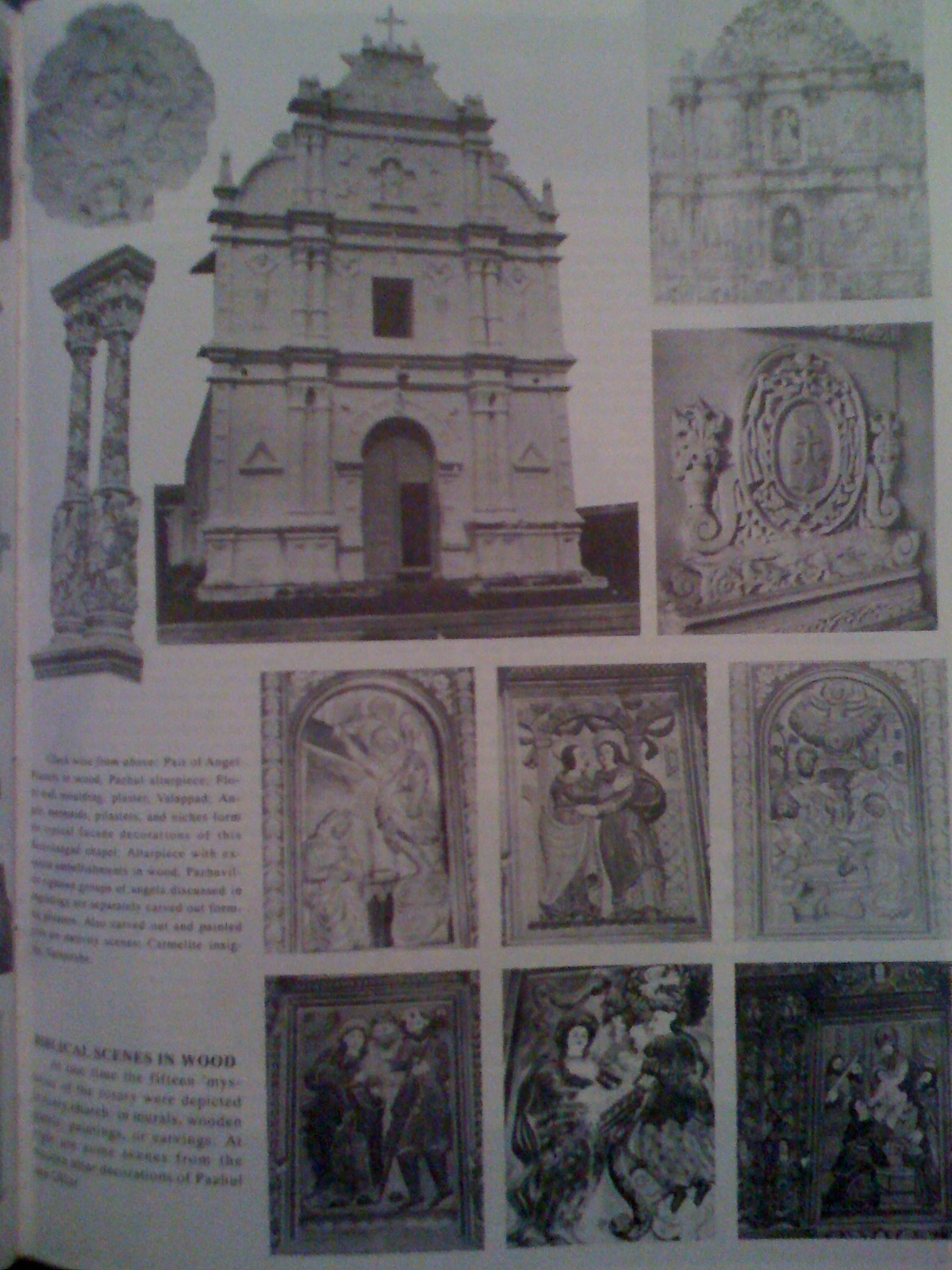 This Encyclopedia contains most of the classics written about Saint Thomas history. All most all of these books are only available today in very few libraries. It also has introductions written by today's authorities in that area. There are more than 1000 pictures. This is very helpful for a serious student of history who wish to study Saint Thomas Christian history in detail.
HOW TO GET A COPY
"The Nazranies" in India is priced at Rs. 2250. The abroad pricing is at US$165. This is published by South Asia Research Assistance Services ( SARAS). More details can be obtained from IndianChristianity.com. There is also an order form.
Pictures
1. "The Nazranies" front Cover
2. The Nazraney Wedding Picture ( Ca.1900) from the " The Nazranies".
3. Church Doorways from the "The Nazranies".
4. Wood works in Churches from the "The Nazranies".
__________________________________________________________________________
Author can be reached on admin at nasrani dot net.
Based on the material published in "The Nazranies" from SARAS. More details in SARAS.
__________________________________________________________________________