Surviving MSS- Old Testament Manuscripts, Psalms and New Testament Manuscripts of Christians of Saint Thomas
This is a list of surviving MSS of Christians of Saint Thomas, pertaining to the Bible excluding Biblical lectionaries and commentaries of Holy Scripture. The list is based on the catalogue compiled by J P M Van Der Ploeg. Cor-episcopica Vander Ploeg is a Dominican, who has studied and examined the sources in Kerala and libraries in Europe. He is an internationally well known scholar who has published many books.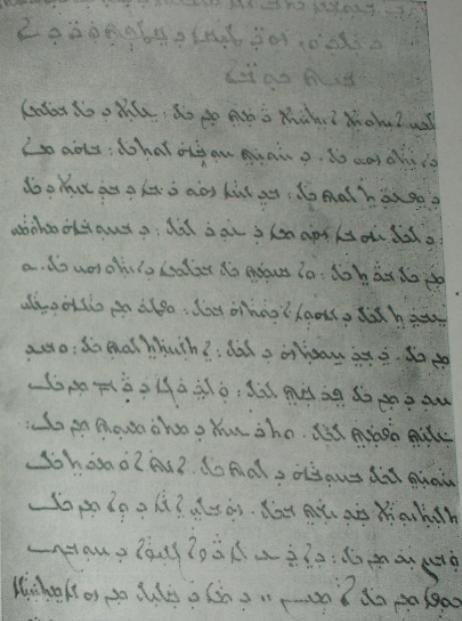 1. Old Testament Manuscripts
According to Van der Ploeg, the collection of Syriac MSS of Old Testament is not very big in Kerala. This is partly due to the arrival of printed edition in 1823 ( Syriac OT- Lee) which made the old MSS superfluous, there by causing its disappearance in the last one and half centuries. The books of Old Testaments were certainly copied in Malabar before Sixteenth century, but no MSS of that time has been preserved. According to Van der Ploeg, Kerala Syriac MSS belongs to an authentic Syriac ( mostly East Syrian) tradition which enhances the value of manuscripts which are copied in a remote part of the Syriac tradition.
1. Codex. Vatican Syraic 4
This was completed on 16.02.1556, and this contains the texts of the Prophets. This was copied by a Priest, who was the disciple of Mar Jacob, the Metropolitan Bishop, in the Church of Mar Sabor and Mar Prodh in the village of Parur.
2. Codex. Vatican Syriac. 2&3
This contains many books of the Old Testament. Both the Volumes were copied in 1558 AD. This was copied at Angamali, in the Church of the blessed Virign Mary, " Mother of light and life" by the priest and monk named Geevarghis.
3. Cambridge Bible
This is the oldest known Biblical MSS someway connected with Kerala. This is preserved at Library of Cambridge (U.K.) University. It contains both Old and New Testaments, the Old Testament part is described in the List of Old Testament Peshitta Manuscripts, 1961 and also in Wright, Catalogue of the Syriac Manuscripts. (1037 -1043).
The handwriting is identified by FC Burkitt as "the Estrangela of the Tur-Abdin". According to Burkitt, the text is thoroughly Jacobite; for this reason it cannot have come to India prior to 1665. (( FC Burkitt- "The Buchanan Manuscripts at Cambridge" ))
It was presented to Dr. Claudius Buchanan in 1836 by Mar Dionysios 1 (+1808) and it may safely be dated from the end of the l2th century. This is also known as Buchanan Bible. According to J P M Van der Ploeg, it may have been the cherished possession of one of the Jacobite Bishops who came to the country from the Middle East. It may also have been brought to Kerala because it contained books which were lacking in the New Testament Canon of the Church of the East. (( JPM Van der Ploeg- "The Syriac Manuscripts of Saint Thomas Christians"-Page-46 ))
4. Other Cambridge MSS
Among the MSS Buchanan brought to Cambridge, there are other Biblical MSS and according to Wright, all of them date from the 17th- 18th Century. Following are the details.
4.1 Three copies of Pentateuch
According to Wright, this was copied not before 18th century. According to Burkitt, this was considered not earlier than 17th century.
4.2 Other Cambridge MSS
This contains texts of four major Prophets & twelve minor ones. This was copied in 1682 by a Priest named Geevarghis in the village of Mattam near Thrishur. Another one dated 1734 contains many books and was copied at a Carmelite monastery.
5. Ernakulam Syro Malabar Library
There is an East Syrian copy of Pentateuch, written 1828 in Pallipuram, North West of Parur. This was written by Jospeh ( a laymen) at the Church of Saint John, the Baptist.
According to Van der Ploeg, in the same library there is also another in complete Pentateuch written in 16/17th century in a very bad state of preservation.
6. Library of Pampakuda- Konat family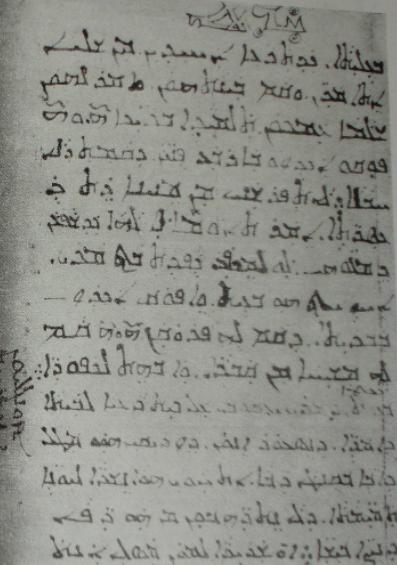 All the books of OT are preserved here. Some are dated from 1753, 1767, 1783, 1804, 1887. Some of the books are described as partly "Nestorian". There are Psalters which are dated 1753 and 1767 AD written in West Syriac. According to Van der Ploeg, it seems that the owners of Konat Library at Pampakuda tried to have at least one complete set of all the Old Testament books before the printed edition came in 1823 AD.
7. Metropolitan of Perumpally- Mulanthuruthy
According to Van der Ploeg, the Syrian Orthodox Bishop Giwargis Gregorious had in his possession a complete OT or part copied in East Syriac. The beginning and end were the lost parts. According to van der Ploeg it may be dated 17/18th century
8. CMI, Kuravillassery
At the CMI novitiate Kuravillassery in Trishur has an East Syrian Biblical OT MS copied in 1734.
9. Syro Malankara Trivandrum
According to Van der Ploeg, there is a 484 page Biblical MSS with some non Biblical text copied in 1816 at Seppad ( between Allepy and Quilon) . There is also a copy of Judith dated 1734.
2. Psalms
There are many manuscripts with Psalms, which had a prominent place in East Syriac daily Canonical office for which printed manuscripts were not available for a long time. A shortened Syro Malabar bravery was published only in 1857. All these editions present the traditional liturgical Psalter of Church of East with the canons of Mar Aba. Mar Aba was the Patriach of Church of East from 540-542. This represent a tradition of fourteen centuries. The East Syriac Psalter was replaced by Jacobites a century and half ago.
1. MS Syriac-25 Paris
This is supposed to be the oldest liturgical Psalter from Kerala. From a Syriac text found in the Psalter, it is concluded that it was complied in 1504 by the famous Mar Jacob, Metropolitan Bishop of Malabar. This is in East Syriac and according to Van der Ploeg this is of around 1650.
2. Cambridge –Oo-1.22
This Psalter follows the liturgical text with Diampoor corrections. According to Wright this was copied in 16/17th century.
3. Dharmaram College
Dharmaram College, Bangalore has an East Syriac Psalter which was completed in 1731 by a Jacobite deacon, son of a laymen and disciplne of a famous Malpan at Mulanthruthi. According to Van der Ploeg, the writer may be a member of Konat family.
4. Syro Malabar Thrishur Bishops Library
There is an East Syriac liturgical Psalter ( MS No-38) copied CA 1800. There is also another small volume containing Pslater and liturgical texts and another volume with canons of Mar Aba.
5. Thiruvalla Malankara Bishop library
At Thiruvalla there is a liturgical Psalter with various texts. Its mostly in East Syriac and at the end there are some liturgical prayers in West Syriac ( a proff that it was used by Jacobites) and a note with date 1753 AD.
6. Konat Library, Pampakuda
Konat Library has two East Syriac Pslaters and two West Syriac Pslaters all copied between 1750 and 1800.
3. New Testament
When the Portuguese arrived in Malabar, they noted that the Christians of Saint Thomas posseded Syriac copies of New Testament which was not completely identical with their own Latin text. The decrees of Syond of Daimpoor ( Action –III, Decree 1-3), states the Canons of Books according to the Council of Trent. The decree also makes a note of the books which are lacking. According to Van der Ploeg, the remarks of the Syond of Daimpoor are partly conformed by the surviving manuscripts.
The collection of New Testament is not very big and nearly all of them are in East Syriac. Accrding to Van der Ploeg, "In the most tradition minded community, the Jacobite one, East Syriac script could not be read by most Deacons and Priests after 1825, except by those who has learned it in earlier years; the printed books (West Syriac characters)made manuscripts superfluous."
In the Catholic Community, the passages required for Eucharistic celebrations were printed in the ones used from 1774.
1. Vatican Syriac Codex 17
This is the oldest Malabar copy of the surviving New Testament. It was written by Mar Jacob and completed in 1510 AD.
2. Library of Mar Ivanoius College, Trivandrum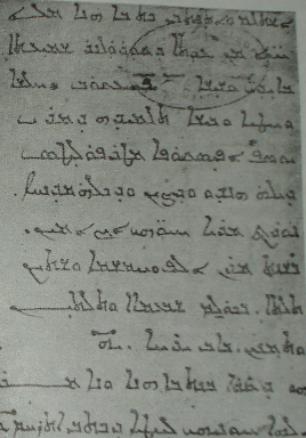 This is the oldest copy available in Kerala. The Colophon says that it was copied in 1563 by a discipline of Mar Jacob, Metropoliten of Hindo, Sin ( China) and the entire East. When the Book was copied the Bishop probably might have been away but he was not forgotten.
3. Cambridge Collection
Among the MSS Buchanan bought to Cambridge, there are some New Testament Biblical MSS belonging to 17th /18th century.
Oo. 1.25- A copy of New Testament four gospels and Acts in East Syriac. Codex seems to have been copied in 17th/18th century. This has a Roman style.
4. Konat Library
According to Van der Ploeg, there was only one handwritten copy New Testament in Konat Library, preceded by some "Questions and answers" a well-known genre Literature of the Nestorian literature. The date may be 17th century; in East Syriac. There are at least 10 printed copies of the NT in the same library; the printed edition
(with indications of the liturgical passages) supplanted the manuscripts in the Jacobite Church of Malabar.
5. Library of the University of Leiden
In the library of the University of Leiden, there is an East Syriac copy of the four gospels given to the public library of the town by a former Dutch commander of Ceylon. The script in East Syriac shows that it was copied in Kerala in the 17th century. Besides this book,the University possesses two manuscripts of later period, the first one containing the four Gospels, the second Acts and St Paul. According to Van der Ploeg, at the end of the 2nd volume there are some words which must have been written by someone who was acquainted with the Jacobite liturgy. Though it is written is East Syriac, the two books were copied by members of the Jacobite community.
6. Library of the Archbishop of Syro Malankara
In the library of the Syro Malankara Archbishop of Trivandrum, there is a book of the Four Gospels in East Syraic probably copied in the second half of the 17th century. Another MS probably copied East Syriac c1700 contains Acts of the Apostles. There is also a third volume copied probably in Ca 1750.
7. Library of Catholic Bishop of Thriruvalla
This Library has three copies of handwritten copies of the New Testament. The first one was copied in 1794 by a Jacobite at Kunnamkulam. The second and third book is also in East Syriac.
8.Oxford Library
The Bodleian Libray at Oxford posses a New Testament copied in 1733 and 1734.
Note About Sources: Based on the Cataloge prepared by JPM Van der Ploeg and published in the book" Saint Thomas Christians and their Syriac Manuscripts".
This is a revised article as of August 09/2009. The old article titled "The Lost Aramaic Bible of Syrian Christians of Kerala" was a re production from K R N Swamy, columnist on heritage, culture in the Deccan Herald dated April 11 2004. This was about the Cambridge Bible. Please read discussions for details.
Pictures:
Picture 1– East Syrian copy of Pentateuch, written 1828 in Pallipuram, North West of Parur preserved at Syro Malabar Arch bishop library. This was written by Jospeh ( a laymen) at the Church of Saint John, the Baptist.
Picture 2– Jacobite text in East Syriac. 1803.
Picture 3– Part of the Colophon ( 1563 AD) preserved at Mar Ivanoius College Trivandrum. The Colophon says that it was copied in 1563 by a discipline of Mar Jacob, Metropoliten of Hindo, Sin ( China) and the entire East.