Save Syriac
Authored by NSC- Admin on Saturday, November 10, 2007 19:55 54 Comments
At a time in history Syriac was synonymous with Nasranis. This article analyze the present situation of Syriac, considering the various factors which influenced the Kerala social sphere.
1. Syriac Language



Syriac is an Eastern Aramaic language that was once spoken across much of the Fertile Crescent. It was a major literary language throughout the Middle East from the second to the eighth century AD.1
At its broadest definition, Syriac is often used to refer to all Eastern Aramaic languages spoken by various Christian groups; at its most specific, it refers to the classical language of Edessa, which became the liturgical language of Syriac Christianity.
During the first centuries of the Christian era, South India had commercial relations with Mesopotamia and other countries of the Middle East where Aramaic was spoken. Aramaic was the' Lingua Franca' of oriental Christianity.
Language is not a mere vehicle of abstract ideas, it is really the authentic expression of a way of life, the living manifestation of a culture.2
It became the vehicle of Christianity and culture, spreading throughout Asia as far as Malabar and Eastern China and was the medium of communication and cultural dissemination for Arabs and, to a lesser extent, Persians.
Primarily a Christian medium of expression, Syriac had a fundamental cultural and semantical influence on the development of Arabic which replaced it towards the end of the eighth century.
2. Syriac influence in Malayalam
Malayalam prose of different periods exhibit various levels of influence from different languages such as Tamil, Sanskrit, Prakrit, Pali, Hebrew, Hindi, Urdu, Arabic, Persian, Syriac, Portuguese, Dutch, French and English.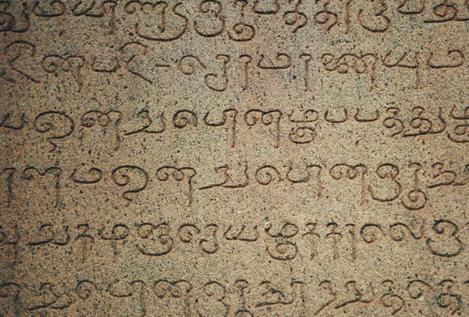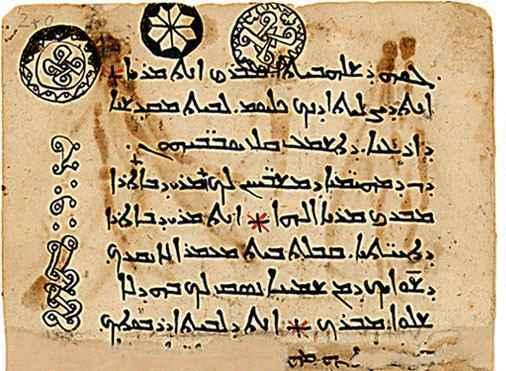 The Vatteluthu alphabet, which is the ancient Tamil and modern Malayalam script, shows a close Phoenician influence in South India.3
The Vatteluthu rounded writing is an abugida writing system used to write some Dravidian languages of South India and Sri Lanka. The earliest written record of Malayalam is the Vazhappalli inscription(ca. 830 AD).
Numerous Syriac words are in use even today in Kerala, e.g., Misiha (Christ), Easo (Jesus), Sleeha (Apostle), Mar (holy), Sleeba (cross), Qurbana (sacrifice), Qudasa (sacrament), Skasa (chalice), Mad'baha (sanctuary), Asan (teacher), became current from very ancient times.
Aboon, Alaha, Almaya, Ameen, Ba'utha, Barekmar, Bukhra, Dayara, Denha, HaikIa, Hannan, Hosanna, Husaya, India (Hindu), Kaldaya, Karozutha, Kasa, Keepa, Madbaha, Mahron, Malakha, Malpan, Mamodeesa, Mar, Maranaya ,Maraneshomeshiha, Marth Mariyam, Maudiyana, Mauthbenmar, Mazmura Methran, Mhaimneenan, Mhshiha, Nasrayan, Parudeesa, Peelasa, Pes'ha, Preeshen, Qabar, Qadisanmar, Qnuma, Qudasha, Qurbana, Ramban, Ramsha, Raza, Resh Pathriyarkees, Ruha, Ruha d' qudsa, Rushma, Sahada, Samaryan, Sapra, Sedra, Shemmasenmar, Shleeha, Skeepa, Sleeba, Subara, Thakhsa, Uraha, Urara, Yakobaya, Yeerenmar etc..are some of the Syriac words which are in common use in Malayalam language.4
3. The Divine Liturgy introduced by St Thomas
Historians are of the opinion that St. Thomas established the early liturgy here in Aramaic (Syriac). St. Thomas provided only the rudiments of the liturgy, but it contained all the elements which later on developed into the full structure.5
The fundamental structure of the liturgy of the Divine Sacrifice from which the whole liturgy developed in due course seems to have been the same in all churches in the first three centuries.6
In those days, Greek was the chief language of the West; and Syriac, that of the East.
The coins of Augustus and Nero were found in abundance in South India, and the Roman aureus circulated there as currency.7
Hoards of these ancient Roman coins have been dug up from various parts of the country. The coins of Hadrian have been recently discovered at Kurnool. Dio Chrysostome (d. A.D. 117) says that numerous Indian traders were frequently seen in the bazaars of Alexandria.8
A drama written in Alexandria in the first century A.D. has one of its characters speaking Canarese, an Indian language. Evidently, foreign merchants learned Indian languages just as the South Indians had an appreciable mastery of Aramaic.
The Apostles established liturgy in the languages prevailing in the climes they evangelized, chiefly Aramaic in the east and Greek in the west. Since Aramaic (East Syriac), the language of Jerusalem and the Middle East at the time of Our Lord, was known in Kerala due to her overseas commercial enterprises, it is only proper to accept the tradition that St. Thomas established the liturgy here in that language.
On account of their close contact with the Jews, Aramaic was not unfamiliar to the Keralites.9
As we have seen, innumerable very old Malayalam words have come from Syriac. Many of them are current in usage in Malayalam.
4. Importance of Syriac in Indian and Malabar History
Before 2nd c. A.D. the languages that are seen in the inscriptions in India are Tamil, Pali, Arthamakathi, Greek, Aramaic. Sanskrit inscriptions have not so far been uncovered.
The inscriptions of Asoka use three different languages and four scripts. The most important and the largest in number are composed in Prakrit but Asoka also had a few inscribed in Greek and Aramaic. The scripts used for the Prakrit inscriptions were Brahmi and Kharoshthi, and for the others, Greek and Aramaic. The Greek and Aramaic inscriptions are found in Western India and in a group of Asokan inscriptions from Karnātaka in southern India. The Brāhmī inscriptions shows a striking parallels with contemporary Aramaic.
St Thomas cross found at St. Thomas Mount, Mylappor, Pillar Seminary, Goa and different Kerala churches in Muttuchira, Kothanellur, Kadamattam, Kottayam and Alangad are bearing a Pahlavi and Syriac inscription which are dated from 7th Century in C14 dating.
Many historians belive that Syriac script and liturgy – surely the pahlavi script – were in Kerala much before the Devanagari found their foothold in Kerala.
All the Vigrahas or images of Hindu gods and goddesses appearing anywhere in Kerala are datable to a period much later than the time of the Pahlavi crosses of St. Thomas Mount, Goa, Kadamattam, Muttuchira, Kothanellur, Kottayam and Alangad. Of all the rock images in existence in Kerala the Pahlavi crosses are much older than any Hindu Vigraha.10
Syriac was a spoken language in South India. It was the language of the early liturgy followed by the Syriac Christians of what is now Kerala. To be ordained a priest in the Church till 1960's, a person had to be able to read Syriac and learn the Syriac liturgy .
In 1578, three lay leaders of the Kerala Nasranis submitted a petition to Pope Gregory XIII, saying, "Our orations are in Syriac or Chaldeae language which our Father St. Thomas gave us. We as well as our ancestors have learned this language."11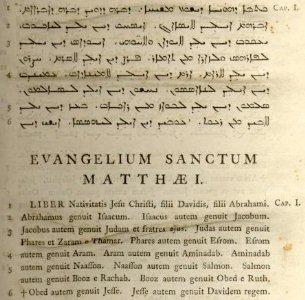 Portuguese in their fight against heresy (?) during the Syond of Diampor destroyed many Syriac books. The books said to be burnt at the synod of Diamper, as given in Jesuits in Malabar Vol.1 are,
1.The book of the infancy of the savior (history of our Lord) 2. Book of John Braldon 3. The Pearl of Faith 4. The Book of the Fathers 5. The Life of the Abbot Isaias 6. The Book of Sunday 7. Maclamatas 8. Uguarda or the Rose 9. Comiz 10. The Epistle of Mernaceal 11. Menra 12. Of orders 13. Homilies (in which the Eucharist is said to be the image of Christ) 14. Exposition of Gospels. 15. The Book of Rubban Hormisda 16. The Flowers of the Saints 17. The Book of Lots 18. The Parsimon or Persian Medicines
In decreces 13, 14 and 15 of session III, of the synod of Diamper the reasons for correcting or destroying the books are given. Some writers point out that this is not an irreparable loss because the copies of them can be had from their places of origin and issue is exaggerated and kept alive with out proving or disapproving for gains.12
The burning of 18 Syriac books on the Syond of Diampor convened on June 20, 1599 under the leadership of Aleixo de Menezes, Archbishop of Goa shows the importance Syriac language had among the Christians of Kerala.
5. Indian Churches- Syriac tradition
The Syriac Churches in Kerala belong to two traditions- East Syriac ( Chaldean) and West Syriac ( Antiochene). Syro Malabar Church and Chaldean Syrian Church belong to East Syriac ( Chaldean) tradition. Malankara Syriac Orthodox Church, Malankara Orthodox Syriac Church, Syro Malankara Church, Thozhiyur Church and Malankara Mar Thoma Church belong to West Syriac ( Antiochene) tradition.
The Churches with East Syrian tradition use the Anaphora of Addai and Mari as their liturgy. The Churches with West Syriac tradition uses the Anaphora of Saint James as their liturgy.
6. Downturn of Syriac in Kerala
Later developments notably the Second Vatican Council allowed the liturgy to be translated into local languages among Catholic Syrians. Until the 1962, the official liturgy used for worship in the churches of Catholic Syrians was ancient Syriac, although many prayers and hymns were already in the local language, Malayalam.
In Syro Malabar Church, Malayalam Qurbana was celebrated for the first time on 3rd July, the feast of St. Thomas in 1962. Though texts of Qurbana exist officially in Syriac, Malayalam and English, its celebrated mostly in Malayalam now.
At a similar point of time the Syriac Orthodox ( Jacobites) also started using Malayalam as liturgical language. The Qurbana of St James also got translated to Malayalam and currently uses many Syriac prayers and hymns in Malankara Orthodox Syriac Church (Orthodox), Malankara Syriac Orthodox Church ( Jacobite), Syro Malankara Church (Malankara Catholic) denominations.
Under the Anglican influence, in late nineteenth century, the Protestant Syrians started using Malayalam as their liturgical langauge. Malankara Mar Thoma Church uses the reformed liturgy in Malayalam.
7. Syriac of Today
Today, a mere one million people worldwide speak Aramaic. In some small mountain-villages of Syria and Iraq there are both Christian (Orthodox and Catholic) and Muslim communities who speak this language. They co-exist without any enmity due to religious differences and, although the official language is Arabic, at least some of them try to keep the ancient language from dying out.
In Kerala there were demand from a very large section of laity for re introduction of Syriac Qurbana atleast a month , and on festive occasions, and for elementary Syriac education as part of catechism etc. This has got luke worm response from Church leadership.
All the St Thomas Chrsitian churches run large number of "Minority Institutions" and these days Syriac is not getting any prominence as a choice for second language as part of the curriculum. Article 29 (1) of the Indian Constitution stipulates "any section of the citizens residing in the territory of India or any part thereof having a distinct language, script of culture of its won shall have the right of conserve the same".
Are the "Minority Institutions "ignoring the Syriac language studies doing justice to the Indian Constitution ?
8. Ray of Hope
Syriac is witnessing an expansion in western universities. In the late 1980s, the Oxford University began to offer a Master Degree in Syriac studies. The University of Birmingham followed the suit. In most of the major universities, Syriac is taught either in Semitic departments, religious studies, or both. Mahatma Gandhi University, Kottayam in Kerala has a Ph.D. program in Syriac.
The liturgy and traditions of many of the Eastern churches derive from Syriac, ironically only in south India there is an institute dedicated exclusively to the preservation of these traditions. The St. Ephrem Ecumenical Research Institute (SEERI), established by the Syro-Malankara Catholic Church, Diocese of Tiruvalla in September 1985 near Kottayam, Kerala, is the only institution in the world for advanced learning and research in Syriac heritage and literature. SEERI's activities and functions are governed by a board of distinguished leaders representing the seven Syriac churches in India – Catholic, Orthodox and Protestant denominations.
SEERI seeks to foster and deepen the mutual understanding of these Syriac churches through close collaboration in the search and study of their common heritage. The institute possesses a spacious library and reading room. The library houses a fine collection of books and publications not formerly available in India. Presently the microfilm collection has over 10,000 pages of mostly unpublished Syriac texts and manuscripts. Equipment for microfilm and microfiche has been installed to grant access to these documents. There is also an ever-expanding section of modern books on various theological subjects.
The institute also conducts a World Syriac Conference, which has been held in September every few years since 1987. Scholars in Syriac language and literature and renowned authorities on Syriac Christian issues, from India and abroad, participate in the World Syriac Conference . These academic gatherings have certainly charged the participants to delve deeply into the Syriac tradition, which in the course of history has proven to be a treasure trove.
We hope conferences of this type will enable the members of the Syriac churches of India to know and appreciate their own precious patrimony and to draw abundantly from it for the spiritual and liturgical renewal of their churches.
Besides the periodicals The Harp (in English, three issues a year) and Nuhro (in Malayalam), SEERI also publishes a series entitled Moran Etho. Monographs include periodic publications in English and the SEERI Correspondence Course (S.C.C.), an English language course on Syriac Christian heritage.
SEERI has been recognized by Mahatma Gandhi University, Kottayam, Kerala and its Centre for Research Studies now awards a doctoral degree in Syriac studies.
9. Conclusion
Scripture, the Fathers and the Liturgical sources, are not simply testimonies of past history or a subject of archaeological interest, they are testimonials in the deepest sense of the word of a 'story' between God and his people. They are the knots in the woven fabric of which we are the newest threads striving to interlace with one another to form new cloth.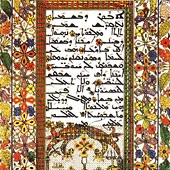 The Church's labour is precisely bringing forth the deeply ingrained new and reshaping an already established deposit. And to do this Church must pore over the sources of her faith keeping before her eyes – or better in her heart, the needs of the world today.
We are not children of a legendary past, instead, believing that the Lord Jesus will come again, we attest that fulfilment lies not behind but ahead of us.
This is not looking back. In fact rediscovering the sources of one's faith is not moving back, just as authentic prophecy is not moving on.
Going to the sources if we think carefully, is not a temporal itinerary back to the past, but rather a journey which probes deep and goes to the essential. This is a journey which helps us asses the ecclesial nature of our faith, our ideas and our responses to the challenges of today.
The old " Suriyani Qurbana" and the new " Malayalam Qurbana of Addai and Mari" and " Malayalam Qurbana of St. James " are authentic expressions of the faith and human experience of Syrian Christians.
It does not confront with each other in insoluble contrast, on the contrary sustain and illuminate one another reciprocally.
Pictures
1.The sixth beatitude (Matthew 5:8) from an East Syriac Peshitta. "Blessed are the pure in heart: for they shall see God."
2. Comparison of Vatteluthu and Syriac alphabets
3. Syriac text of Mathew Gospel
4. Lords Prayer in Syriac
_____________________________________________________________________________
Author can be reached on admin at nasrani dot net
_____________________________________________________________________________
Footnotes
54 Responses
Participate – Your opinion-Leave a Response
NSC NETWORK is a non moderated forum. All are welcome to participate in the debates. We encourage comments, critiques, questions, additional information,corrections and suggestions. We also encourage participants to provide answers/ideas to questions raised on articles or on posts/comments.Links/Videos/Pictures of value to readers are most welcome.

We request that please stay on topic, respect other people's opinions, avoid profanity, offensive statements or anything else that might otherwise violate our policy. Please understand that we reserve the right to edit or delete posts/comments for any reason we deem appropriate. By submitting a post/comment here you grant this site a perpetual license to reproduce your words and name/web site in attribution.

Please note that NSC Network may, in our sole discretion, reject posts/comments for any reason we deem appropriate. Please try to post on relevant discussions and we may in our discretion move discussions to relevant threads.