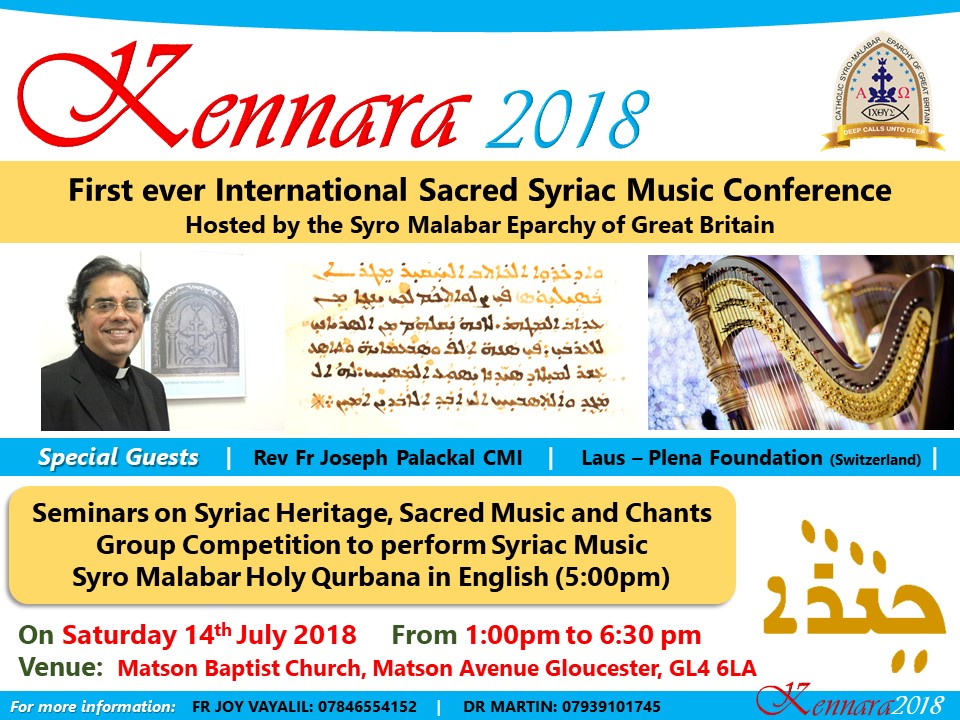 Rev Dr Joseph Palackal, renowned musicologist and researcher is visiting the United Kingdom with his mission to promote and preserve the Syriac language, the music and the traditions of the Syriac Christianity of India. Fr Palackal is an Indian Priest and founder of the Christian Musicological Society of India. He has earned his Doctorate in Ethnomusicology from the City University of New York. Fr Palackal  has contributed to many prestigious international journals and books in the form of academic papers. He has been actively involved in promoting Syriac tradition of India by researches in the grass root level and also by presenting in many international learned forums. With his Aramaic project, he has lighted a fire which is spreading fast. With his efforts, Indian Syriac Christianity has become a serious talk in the academic community.
Fr Palackal's last visit in the UK in 2015 resulted in CNN channel recording and broadcasting an episode on Saint Thomas Christians with various recordings in Kerala. CNN team who was making a series of documentaries attended the Festival of Eastern Catholic Churches held at the Ukrainian Greek Catholic Cathedral in central London in 2015. They made more contacts and sought help with their documentary. Fr Palackal appeared in the documentary as a resource expert.The documentary also included recording of celebration of a Raza, the most solemn celebration of the Eucharistic Liturgy in East Syriac rite, in Syriac language at the ancient Church at Champakulam.
Fr Palackal is on the front line in promoting the Syriac heritage of Syro malabar Church and the Syriac Christianity of India. The Aramaic language of India and its peculiarities are highlighted in his mission. The pronunciation of Aramaic Syriac in India is similar to the pronunciation of the time of Jesus and even before compared to the Syriac survived in the Middle East now which has become distorted due to the influence of Arabic and religion cultural persecutions. Aramaic Syriac of India is actually an archaeological specimen of its ancient form. This is a strong proof about the Christianity of the Syriac stream from the time of the Apostles in India. There are advanced midi controllers for the ones passionate to learn and explore more in music.
The Syro Malabar Eparchy of Great Britain has taken this visit as an opportunity with different faith formation seminars. The most important of them is an International seminar on Sacred Syriac music Kennara and Kadavil Chandy Kathanar Syriac Music festival.
Rev Dr Palackal's programmes in the UK.
University of London School of Oriental and African Studies and Centre of World Christianity
Aramaic Chant and Liturgy in India: A new discourse on the  Music of South Asia. Lecture, video presentation and performance of Syriac chants, Centre of World Christianity,School of Oriental and African Studies, University of London- 10 July 2018.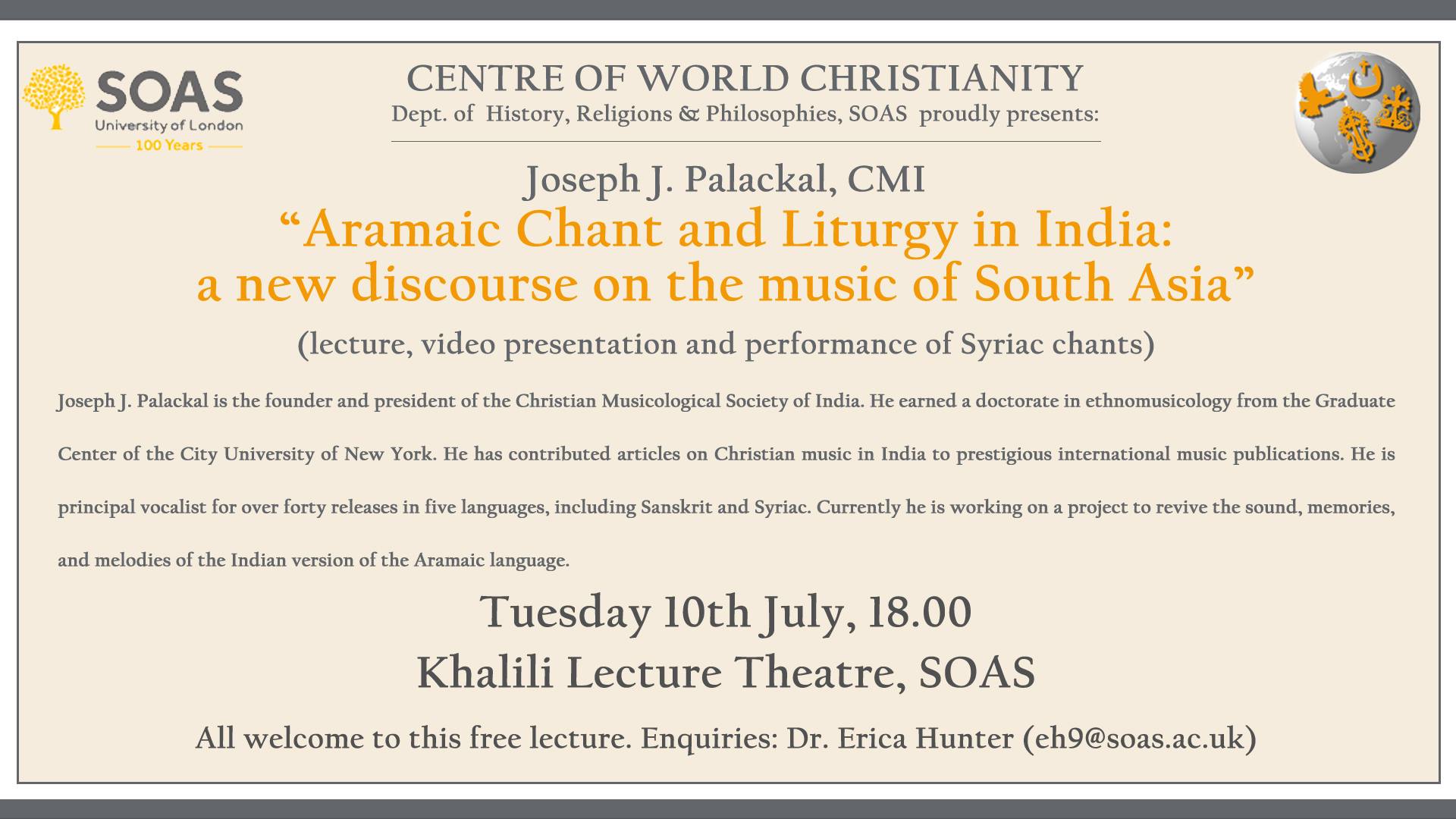 Aram Conference, Oxford University, England
Syriac Chants of the Syro Malabar Church. Presentation in the prestigious Aram Conference, Oxford University-11 July 2018.
Kennara- Sacred Syriac Music Conference, Gloucester, England.
Kennara, Sacred Syriac Music conference hoisted by the Syro Malabar Eparchy of Great Britain, a collaboration with Laus Plena Foundation in Switzerland. Scholars from Iraq, Switzerland and Italy are participating. 14 July 2018, Gloucester, England.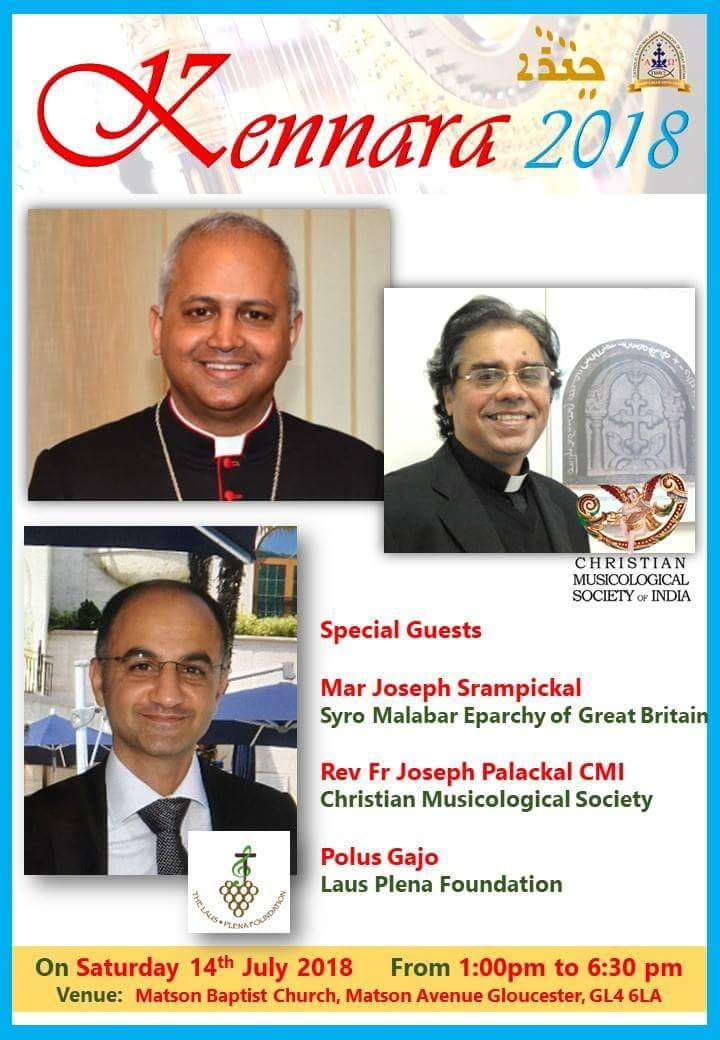 Kadavil Chandy Kathanar Syriac Music Festival, Gloucester England 14 July 2018
Kadavil Chandy Kathanaar Syriac music festival and singing competition.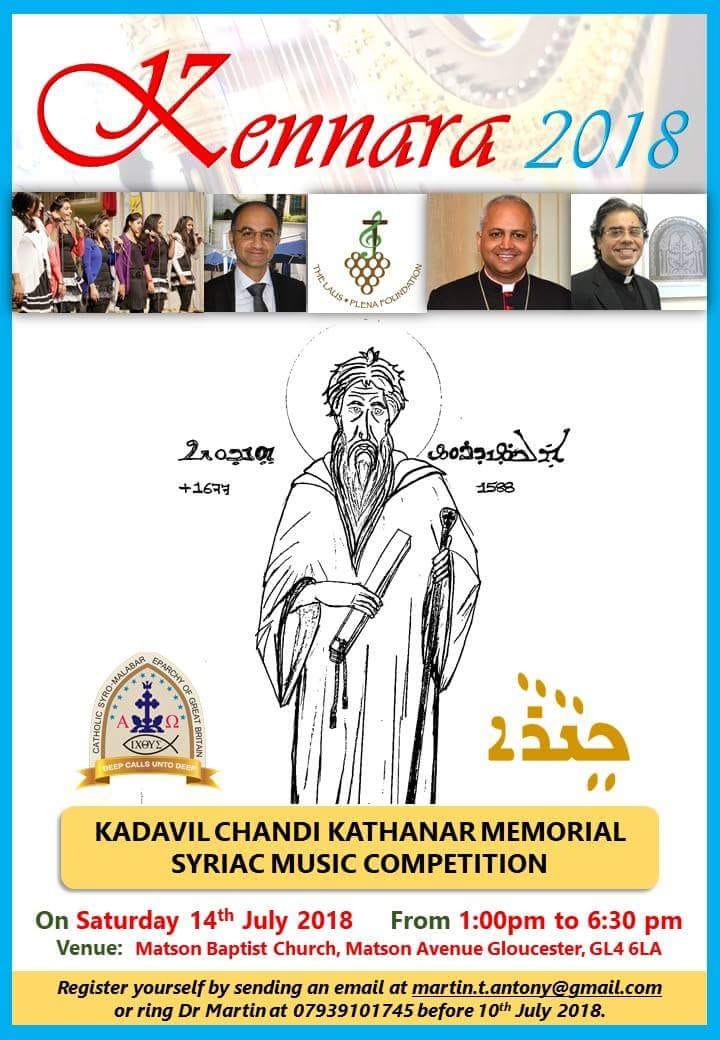 Several Regional Seminars organised by the Syro Malabar Eparchy of Great Britain .