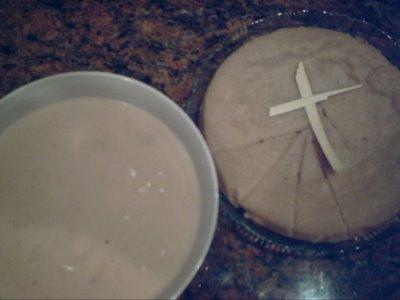 The following are recipes for certain unique Kerala Nazranee Pesaha dishes, from different sources/individuals as duly acknowledged after each recipe. Such or similar dishes were and are part of the Pesaha (Maundy Thursday) supper in several Nazranee families in India and overseas. The tradition is thus kept alive by them.
1. Pesaha Appam (Unleavened Bread Kerala Nazranee Style!)
Rice -1.5 cups
Urad Dal withot skin – 0.5 cup
Cumin seeds – 0.5 teaspoon
Garlic – 2 cloves
Coconut, shredded – 1 cup
Salt – as needed
Soak the rice overnight on Wednesday evening.
Heat Urad Dal in a frying pan, stirring continuously. Be careful so that it does not burn. Stop heating when golden brown. Stir and let it cool. Soak this Dal for 2 hours.
Grind all ingredients together. Add water just enough for a viscous batter. Do not grind to a fine paste. The batter should be slightly lumpy. Taste and add salt as needed.
Pour in a baking dish. Steam for 20 minutes. Alternatively, bake at 400 F. Allow it to cool before serving with Pesaha Pal (see below). (( Acknowledgement: John Medamana))
_________________________________________________________________________
2. Pesaha Pal (Kerala Nazranee innovation for Wine!)
Coconut Milk – 2 cups (alternatively, use regular milk)
Putt flour – 1 table spoon (alternatively, use Cream of Wheat flour)
Brown Sugar – 2 to 3 tablespoons
Cardamom (powdered) – 2
Salt – for taste
Mix flour and milk in a saucepan. Add brown sugar. Boil for 3-5 minutes until thickened like gravy. Add salt and test for taste. Adjust thickness by adding more flour or milk as needed. Add cardamom. Keep stirring till it cools. Serve with Appam (see above). ((Acknowledgement: John Medamana))
__________________________________________________________________________
3. Pesaha Appam
(This is said to be the way the Pesaha Appam is made in the southern side of Kottayam)
(For One Deep Dish) (10-12 pcs.)
Rice Flour – 2 Cups
Cream of Rice – ½ cup
(Option: Soak 2 cups, ie. 1 pound long grain rice in water for 3 hrs, grind coarse,
1 cup grated coconut. Use the coconut water to grind the rice.)
Coconut, grated – 1 cup (Blended)
Dark Brown sugar – ½ cup (More for more sweetness)
Yeast + Sugar – ¼ Tsp + 1 tsp sugar in ¼ cup warm water
(Instead of yeast, save the coconut milk with 1 tsp raw rice grains, 1 tsp sugar , keep it in a warm place for a day, use that mixture to grind the rice. Also, if vellom (chakkara) is used,no yeast is needed. Or, one cup (pressed, not loose) of the crust-free soft bread could be used in place of yeast.)
1 Table spoon farina boiled in ½ cup water (Paavu kachi).
Salt – ¼ tsp or enough to taste
Cumin powder- 1 tsp
Red or small onion – 1 Tbsp (blended)
Grind the mixture 1-4, to an Iddli consistency, add the warm farina porridge (paav kachi), keep in a warm place for 6 hrs. Place ¼ tsp yeast and 1 Tsp sugar in ¼ cup warm water, the solution will froth in 5 minutes, (or the substitutes) add it to the mixture, keep warm for 4 more hours. Before cooking, add the salt and cumin powder, onion paste, pour into a greased pan, cook in a steam bath for 20 minutes, or till it is firm, test with a toothpick.
Raisins and cashews could be sprinkled on top of the Appam before cooking, for more taste and decoration. Usually the first Pesaha Appam is made plain (without the nuts and fruits)
Use the multiples of the measure for more pans of Appam.
Usually 2 cups(200ml.cup) or one pound is enough to make one kinnam appam. Instead of dark brown sugar, if white color is preferred, use ½ cup sugar or more for more sweetness. ((Acknowledgement: Elcy Yohannan Sakarathil))
____________________________________________________________________________
4. Recipe for Pesaha Appam (INRI appam)
Rice powder (not roasted)-1 cup
Urad dal (uzhunnu)-25 gm
1/2 coconut grinded (medium)
Pinch of cumin
Soak the uzhunnu for a few hours. Grind well.
Grind well the coconut + a pinch of jeera (cumin).
Add everything together and make a dough of idli maavu consistency.
"Keep only for 1/2 hour to ferment."
(To remind of Pesaha)
Grease preferably steel plates of medium round shape. Pour batter in one, and make a cross of palm leaf obtained on palm sunday on it. Steam till well done.
Make all other appams same way but with no cross.
Makes about 2 or 3 medium appams. ((Acknowledgement: Anne Thomas, Hyderabad))
_________________________________________________________________________
5. Paalukurukku
Roasted rice powder-1 cup
Sarkkara (molasses)-1 cup
Cardamom powder
Coconut-1
Please use freshly grinded coconut for making this, otherwise the taste won't be good. Take the juice of coconut. You can put the grinded coconut in mixer and add some hot water to grind for 30 seconds. Now the juice comes out easily.1st milk should be kept separately; take 2nd and third milk also. These two should equal 1 litre of milk.
Take molasses and put the in a saucepan, add some water and heat well. While boiling, lather forms; this should be cleaned away. Then add cumin and chukku (dried ginger). Now sieve this through a strainer and you can see lot of stones and dirt in it. This liquid form of molasses should be used in your recipes. I have seen lots of people use molasses directly in recipes, without first melting them. Remember, all these dirt and stones are dangerous, especially for kids. This commonly happens when we prepare aval vilayichathu, where we use it directly. But be sure to melt it first. The consistency can be achieved by adjusting the amount of water added to it.
Take the 2nd and third milk, molasses syrup and roasted rice powder, bring to a boil. Stir continuously, otherwise lumps will form. Mix cardamom powder with 1st milk and add it last. Also add a piece of palm leaf. Before it boils, take off the stove.
As the tradition goes, the head of the family cuts the appam and gives it to other members, oldest to youngest respectively, after dipping in paalukurukku. This is done in great reverence and pious atmosphere. ((Acknowledgement: Annie Thomas, Hyderabad))
Picture Courtesy : Inji Pennu – ((Acknowledgement: myinjimanga))
__________________________________________________________________________
Author Kuruvilla Cherian Amprayil can be reached on amprayilusa at gmail dot com
__________________________________________________________________________