Christian Cultural Centre Golden Jubilee Museum at Pala is a rare Museum to feast on the priceless glory of antiquity , a treasure house of the diverse traditions of yester years, a niche rich in the remnants and relics of the exquisite past; a rare collection of the marvels of ingenious craftsmen centuries back; a sumptuous dish for hungry eyes indeed!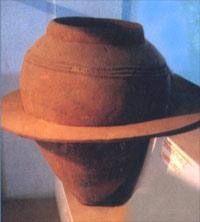 Beyond the portals of the main entrance are the memories of the traditional architecture beauty of long past, it is one of those three halls where the history of the Church in Kerala sleeps embedded in silent sombre grandeur. The old curiosity shop presents the antique curios of ancient Christian churches like liturgical vestments; Tabernacles, Thrones; Ramsethis; candle sticks, chandeliers; glass lamps; Mons-trance four feet high; Chiselled statues of saints and venerables whose blessings are raining upon the world even now; pulpit orn amented with flowers of golden hue; giant baptismal font five feet in diameter…..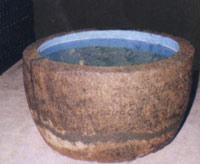 "Alavattom", Thazhakkuda, Thochakkal, Theevetty etc. that used to make the ancient festivals of churches a glory to behold and an event to remember……
The flood gates to magic casements are open…..
The fairy world of fantasy opens in second hall. Piano and Violin that sing at full throated ease at the touch of a tiny finger; Veena; Bulbul; harmoniums of different variety; Tabala; Gramaphone with golden mouthpiece; old wall clocks; the early models of telephone; instruments for penitence like Chammatti and Mullaranganam; the list is endless….
Lamps old and new of different types; ranging from those done in bronze, tin, stone, hurricane lamps,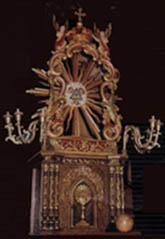 Kolvilakku, Nilavilakku, Sararanthal, Kalvilakku, Kedavilakku, lamp with seven wicks used by Israelites etc…. are displayed in third hall.
Agricultural implements like Plough, Yoke, Ploughshare, "Elachakram", "Palli", 'Njavary', Thekkuthotty
Domestic utensils like "Kinnam", "Montha",Kolambi,"Murukkan chellam", "Vettila thattam", Korandi, 'Chembu', Varpu, Para.. it goes on.
Boxes and containers of infinite shape and size : Kaalpetty, Olapetty, Aamapetty, Kaithara petty, Valavara petty, Abharana petty, Kuthupala, Kuttyppala, Kallu pala, Chottu pala, Morpala;….etc…Cooking and cleaning utensils like Splinter brooms, Kuttichool, Pulchool, Kanjikalam, Meenchatty, Thalikachatty, Koppachatty, Morinkalam, Jars and Vessels of different size and shape.
Manichithrathazhu, Nalukettum Nadumuttavum, Chinese jars of exquisite beauty, giant jars made of stone and clay….Weapons of offence and defence – Swords, Churika etc. and so on. Old measuring and weighing instruments like Thooni, Thudam, Chothana, Naazhi, Changazhi, Sehr, Kutty, Kazhanchikol, Vellikol, Thu lash, Anthriott, Kalkkatti and so on of yester years.Nannangadies: used by ancient people to bury the dead; "Kabar", "Kuttikabar", Cradles…..Crosses: Persian, Ethiopian, African, St. Thomas… to name only a few.
Miniatures of the Tower of Pisa, Pieta, Roman Colossium, Eiphel Tower, St. Peter's Basilica etc…..
Old Printing press, Missals, old and rare books in different languages, canons of the synod of Diamper, Varthamana Pusthakam, Samshepa Vedartham, Imitation of Christ, the decrees of Bp. Makkeel….The official and ceremonial vestments of Mar. Sebastian Vayalil, the first Bishop of Palai, including surplice, biretta, diamond studded mitre…
To crown it all Hieroglyphics and Popyrus of ancient Egypt…..A rare captivating treasure trove of old historical relics close on the verge of extinction…
Just a glimpse takes a Saint Thomas Christian to world of wonder and nostalgia.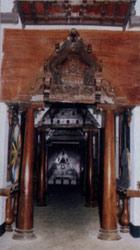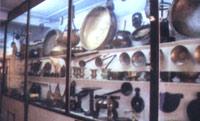 Here is God's plenty and you are most welcome to the cave of ancient splendour for your studies and research. This is part of the venture to commemorate the Golden Jubilee of the Diocese of Palai.
For information, Contact:Rev.Dr.Kurian Mathothu (Curator) or Rev.Fr.James Kaipanplackal (Curator) Christian Cultural Centre.Golden Jubilee Museum, Pala, Kottayam Dt.,Kerala – 686 575. India.Tel: 0482-200083. E-mail: [email protected]
Working hours: 10AM – 5PM
Courtsey– Material and Picture "AS IS" from the Brochure – Pala Museum.