Champakulam Kalloorkkadu St Mary's Church- The Hidden Pearl in Nasrani History
Authored by M Thomas Antony on Saturday, January 30, 2010 3:37 32 Comments
Champakulam Kalloorkkadu St Mary's Church- The Hidden Pearl in Nasrani History
Introduction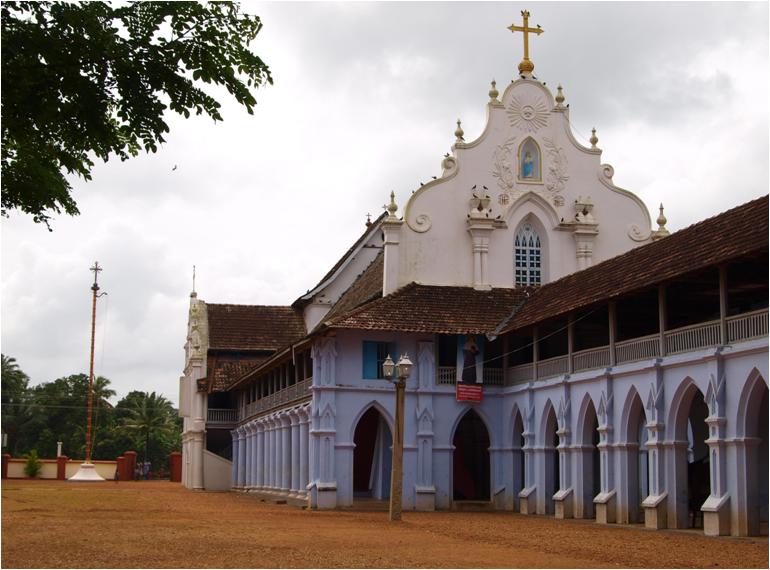 Champakulam Kalloorkkadu church is one of the most ancient churches in India. It belongs to the Archeparchy of Changanacherry, of the Syro Malabar Church. Champakulam church is the mother church of almost all Catholic Syrian churches in Alleppey district in Kerala State. It was founded in AD 427. The Christian community of Kalloorkkadu originated from the Niranom Church which was founded by St Thomas the Apostle himself. Champakulam comes among the second generation of ancient St Thomas Christian churches in Malabar which were formed from the so called seven first generation churches founded by St Thomas the Apostle himself.1
Champakulam is a remote village in Kuttanadu Taluk of Alleppey district. The ancient church at Champakulam has a unique place in the history of Christianity in Malabar. It was involved in many historic events. It had a pivotal place in the efforts of reunion of Catholic Syrians and the Jacobite Syrians in the 18th century. Originating from Niranom church, Champakulam had very close relations with the Jacobite Syrian group and many Jacobite Syrian priests and their prelates even the Mar Thoma VI celebrated Holy Offices here.2
The church was bolstered by the Devanarayanans of the Chempakassery kingdom and had very close relations with the Ambalapuzha Sree Krishna Swamy Temple which was the head quarters of the Kings of Chembakasserry. Even today, Champakulam church participates in the famous Champakulam Moolam Boat race, which is a commemoration of the Procession of the idol of Lord Krishna to Ambalapuzha by providing rope and bamboo every year for the boat race as a ritual.
Ancient accounts
Champakulam church is called Kaloorkkadu church in the ancient records with reference to the name of the place. Kalloorkkadu angadi was very famous in the past when Purakkadu port was a prominent port between Musiris and Kollam.3
Kalloorkkadu was on the commercial route from the eastern Kerala like Aarpookkara, Kudamaaloor, Kuruppampady and Kaduthuruthy and others, to the port at Purakkadu and the spice trade was through this route until Alleppey gained more prominence. The port at Purakkadu has been mentioned in many ancient books like Periplus of the Erythrean Sea and the Book of Duarte Barbosa. Periplus of the Erythrean Sea mentions about pepper trade from cottonora which has been interpreted by many as Kuttanadu.4
Duarte Barbosa also mentions about Porca.5
The Chembakasserry Dynasty and Champakulam church
The Chembakasserry Kingdom was founded in 12th century based at Kudamaalor by a Namboothiri with the help of a group of Nair warriors expelled from the Samoothiry of Calicut. These kings were called "Devanarayanans".6
They later invaded to the west and took over the Ambalapuzha area and moved his head quarters to Amabalapuzha. The famous Ambalapuzha temple was the palace of the king. This kingdom was called as Kingdom of Porca by the western historians with reference to the port at Purakkadu.
Antonio de Gouvea reports that the Church at Purakkadu was founded by the King as a gratitude for the blessings and favours he received from the God of the Christians during his war with the Queen of Wadakkumcoor. He had a lot of Christians in his army and during the war; one of the Cathanaars blessed the Christian army and asked the king to have a private flag for the Christian army with a cross in it. He won many wars with this flag. As a gratitude for his victories, he founded a church at Purakkadu with the title of Mar Sliba (Holy Cross) and brought some Christians from Champakulam to live there. The King himself planned to carry a big cross to the site of the church, but as he fell ill the King's brother and heir carried it and planted there. Later, the King handed this church over to the Jesuites.7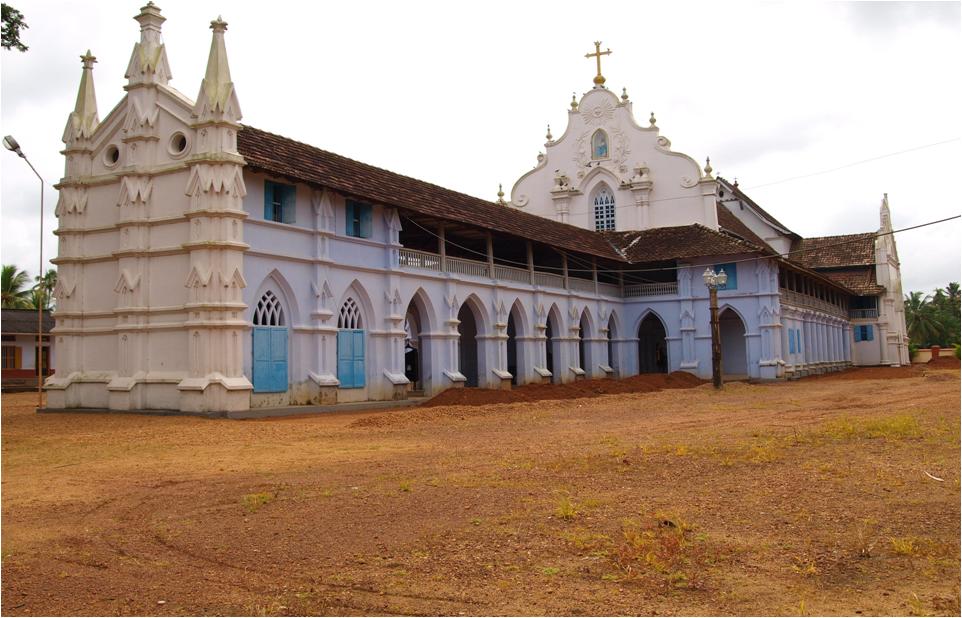 There is documentary evidence that these Devanarayanans helped and supported Champakkulam church. The church was exempted from tax. Later, when the Kingdom was taken over by the King of Travancore, the Travancore Government also honoured the same tradition, but decided a tax of 23.5 kalippanam and donated this sum to the church every year for lighting lamps in the church.
In AD 1544, the church was renovated by the initiative of a Devanarayanan. The last king of Chembakasserry donated some property to the church for the expenses of the Moonnu noyambu of Chamapakulam Church.8
History of the Church
By tradition, the original church was founded in AD 427. We have to assume that the old church might have been rebuilt and renovated many times. As with most of our ancient churches, there is not much documentation available. But, surprisingly we have a lot of information available from a few archaeological artefacts around the church.
It is believed that the first church was at the site of the present cemetery. Later, a new church was built at the land reclaimed from the river, probably in AD1151. We have clear evidence about the renovations done after AD 1151 from the inscriptions on the Champakulam Rock Cross.
It is believed that the Christians migrated to Champakulam from Niranom initially and then from places like Kuravilangadu, Kaduthuruthy, and Kudamaaloor when Kalloorkadu angadi became a commercially important place near the port at Purakkadu.9
Archaeological evidences
There are 5 artefacts identified by various researchers. Rev Fr Antony Vallavanthara has done extensive research about the history of the church and published them as an article "Pazhamayile paramaarthamgal" in the Diamond Jubilee Souvenir of the Leo XIII library in 1970s in which he describes about the first four artefacts. (I was a school student at that time and I kept this article for long time and as a school boy, I personally verified all those artefacts in and around the church. I think this article has inspired me some interest in the scientific study of history)10
[Slideshow- Wait for the pictures to change automatically or roll over for navigation bar ]
1 A stone inscription seen on a step stone on the north side of front door of the church, directed to the west side of the mondalam (portico). This red coloured stone might have been a tomb stone. As this has been ignored as a step stone, most part of the inscription has been eroded and we can identify a cross on the top and digits 844 below it followed by partly worn off letters bordered with two lines on either sides. Experts are of the opinion that these inscriptions are in vattezhuthu- nanam monam of the old Malayalam and denote ME 844 which is AD 1669.
2 An inscription on a beam across the Church which reads "Mishiha Piranna 1730, Thamalloora itty Kuruvila kathanaar I cheelaanthy paniyichu. Ee kollam 905 meena matham"- This beam was built by Thamalloor Itty Kuruvila Kathanaar in AD 1730. This is in ME (Kolla varsham) 905, the month of Meenam.
This clearly indicates that this beam was replaced in the church in AD 1730 by Thamalloor Itty Kuruvila Kathanaar. This proves that the present Church building is built before AD 1730.
3 A palm leaf document kept in the Department of Archaeology, Government of Kerala in Trivandrum dated ME 996 Edavam signed by the Maha Raja of Travancoore, deciding 23.5 panam as tax to the church and allowing that sum to use in the church for lighting lamps.
4 Inscription around the open air rock cross situated on the south side of the church. This reads "Ea kurishu kalloorkkadu ennu prasidhi petta ea palliyude kizhakku vashathu stapichirunnu. Palli pani cheytha eeerekure 670 valsaram chenna 1821 kalam madbaha polichu pani kazhichappole polichu. 1857 kaalam semithery Pani Cheythappole randamathu vechu."- This cross was placed on the east side of this church which is famous as Kalloorkkadu church. After about 670 years of building the church, that is in 1821, when the madbaha was refurbished, this cross was taken down. In 1857, when the cemetery was built, it was replaced.
This clearly states that there was some church building works done in AD 1151. This cross had been placed on the east side of the church. After 670 years, which is in AD 1821, the madbaha was refurbished and this cross was taken down. This must be the modifications by the Portuguese to the madbaha. This also indicates that the present building was constructed in AD 1151.
The present church building is close to the river. There is no chance that this cross was placed on the east side of the church as there isn't enough space there. So, I assume that the inscription is talking about the old church. I have heard that the original church was at the site of the cemetery and it is possible that the cross was on the east side of the old church. They made a new church in AD 1151, and the cross was on the east side of the famous old church. They took this cross down in AD 1821 to replant in AD 1857 when the cemetery was built at the site of the old church. It has to be noted that this cross in the present position is in line with the small church in the cemetery.
5. This is an inscription mentioning about the renovation of the church in 1885 written with tar at the bottom of the dome above the Madbaha of the present church.
In "Changanasserry Athi roopatha Innale Innu vol II" Ed. Jacob Nellikkunnathu, mentions about a new church built in AD 1720. There is no mention of this event on the Rock cross inscription which clearly states about the building work in 1151, 1821 and 1857.The people behind the inscription, who wrote about the events in AD1151 would not have omitted the brand new church built in AD 1720. It seems that it was only a renovation in AD 1720 and the inscription on the wooden beam built by Thamalloor Itty Kuruvilla Kathanaar also points towards this possibility. If it was a new Church, no one would have inscribed it as a "beam was built".
There is another indication for a renovation works in AD 1786 period which is reported by the famous historian Chithramezhuthu K M Varughese. In his series of articles titled "Champakulam palliyude Grandhavai- The chronicles of Champakulam Church- in Nasrani Deepika daily dated 30 sep 1921, 20 January 1922, 29 April 1922, and 2 May 1922, he mentions about the maintenance works done without the permission of the King of Travancore, the church authorities went to see the King on ME 17 Thulam 961 and the King accepted their excuses.11
Jacob J Kurialacherry, in his book Kalloorkkadu palliyum Suriyani Christianikalum- Kalloorkkadu Church and Syrian Christians-about a renovation in AD 1544 with the help of the King of Chempakasserry. In AD 1885 also there was some renovation works and the renovated church was consecrated in AD 1891 by Mar Charles La Vingne, the then Bishop of Changanacherry. In 1985, the plastering of the church with lime was replaced with cement and the murals were renovated by experts.12
Champakulam Open air Rock cross
Open air rock crosses are a unique feature in St Thomas Christian Churches.
[Slideshow- Wait for the pictures to change automatically or roll over for navigation bar]
There are many discussions whether these crosses are European in origin or not. Antionio de Gouvea has reported that it is common in Malabar but very rare in Europe and other places.13
The Champakulam Rock Cross is very important as the inscriptions on it confirm that it was present even in AD 1151. This must be the most ancient open air rock cross found in Kerala with clear evidence about its age.
Church Architecture
We can assume that the present Church building was built in AD 1151 and it has undergone several renovations. There is no evidence of any major structural renovations after the arrival of the Portuguese. Hence, the Church Architecture can be taken as a model of ancient Syriac Christian churches in Malabar. It is important to note that Champakulam Church is one of the rare churches retained with East Syriac scheme of church architecture with Madbaha, Qestroma, sanctuary veils, bema, Hykkala etc. questioning the arguments of many modern day historians that Keralan Churches had no architectural facility for celebrating East Syriac Raza.
The madbaha and its decorations show strong Portuguese influence. This might be the modifications made by the Missionaries. Champakulam Church is famous for its ancient murals.
[Slideshow- Wait for the pictures to change automatically or roll over for navigation bar]
The side walls of the madbaha and the ceiling of the whole length of the church is beautifully decorated with ancient murals. As this is an old church, the inside is relatively dark and while you are inside, all you can see is the murals on the ceiling with blue sky, clouds and angels popping out from the clouds, pictures of the father, son and the Holy spirit all these create a mystic environment and you feel that you are not in this earth!
Champakulam Church in the Nasrani History
Champakulam Kallorkkadu Church has its own place in the Nasrani history. History of the pre Portuguese period is unclear. There is no documentation available about visitation of any East Syrian prelates or any Arch deacons or any important events in the ancient period. Before the arrival of Portuguese, Ankamali was the centre of all Nasrani politics. The politics moved to southern parts like Niranom only after the Arch deacon was evicted from the North by the political power of the Portuguese. Being close to Niranom, Champakulam also gained importance.
Alexis Dom Menesis and Synod of Diamper
It is not clear from available documentation about the representation of Champakulam church in the Synod of Diamper but Thomas Yeates in his book cites the Synodical Acts at Diamper and provide a catalogue of Syrian Christian Churches and Callurcata is one among them.14
Champakulam church might have participated in the Synod of Diamper and Arch bishop Menesis has visited Champakulam after the synod. It is reported by Antionio Gouvea that the Arch Bishop came to Champakulam from Pallippuram. As he did with every Nasrani Churches, he performed Confirmation to everybody as St Thomas Christians did not have a confirmation like the Latin Church. Thomas Yates comments that the Arch Bishop should have known that the Eastern Church administer to children, confirmation and the Eucharist with baptism.15
During the confirmation, he changed names of many who had the name Iso- Syriac for Jesus- in the area which was common among the St Thomas Christians before the synod of Diamper. The Arch Bishop also endowed and helped with comfortable marriages of poor orphan girls which he himself performed. From Champakkulam, the Arch Bishop went to Purakkadu.16
This events are reported by other authors also like Thomas Whitehouse, James Hough etc. Thomas Whitehouse also reports that the Arch Bishop gave rice cakes to children with golden coins hidden in them to win the hearts of the people.17
Coonan Cross oath and subsequent Division, Joseph Sebastiani
It is very clear from Joseph Thekkedathu that Champakulam church was with the Archdeacon during and after the Great Coonan cross oath. It was only in July 1659, Champakulam and Kudamaloor churches joined the Catholic Syrian group by the order of the King of Purakkadu, who was an ally of the Portuguese.18
Even with this, it seems that the Christians of Champakulam were resilient. We can read from James Hough that on 26th of August 1661, Arch Bishop Joseph Sebastiani visited Champakulam church, and the King of Purakkadu sent an officer to persuade Christians to attend and it was with difficulty that they could be induced to receive confirmation at the Bishop's hands.19
Carmelite Missionary Paulinos de St Bartolomew
Paulini de St Bartolomew, an Austrian missionary who was in Malabar 1744-1790, was connected to Champakulam. Thomas Whitehouse reports that Paulinose was resident in Champakulam for a while and his accounts show light into the social history of the area. Paolinos describes "Callurcada as a district abounding in water which produces large quantities of rice. It may be called the granary of Malabar".20
He suggests that the Christians of Champakulam were vegetarians, beef was not available and killing a cow for eating was forbidden in the state. He describes an incident in which 5 young men were sentenced to death by hanging for killing a cow for eating.21
Paolinos also describes, a young man pailo was converted to Christianity in the village of miraculous cross – kurinshingel- and given beef, he replied, that he regarded killing of a cow and eating its flesh in the same light as murdering his own mother and partaking of her flesh. This village of miraculous cross may be vaisyambhagom, a nearby village with a Latin rite church in the name of miraculous cross. This also shows light into the proselytization work done by the Carmelite missionaries based on the existing Syriac churches. When the Syriac churches were separated from Verapuzha diocese, this miraculous cross church remained in Verapuzha.
Whitehouse quotes Paulinus 22
"Chandy, a cathanaar at callurcada had written to inform him that some native Christian women in his neighbourhood were living in concubinage with certain nairs. Paolinos raised this issue to the Diwan and got a letter to the chief native officer at Ambalapolay who was directed to render prompt assistance and those found guilty of this crime were to sent to Trivandrum under a military guard whilst the females were to have all their property confiscated."
This throws light into the persistence of concubinage among Syrian Christians even at that time. We know that marriage was not a sacrament among Nasranis and concubinage was common even with Hindus and even among the Cathanaars. This practice was abolished by the synod of Diamper.
Abraham Hyacinthe Anquetil Du Perron
Du Perron was a French intellectual writer, traveller, interpreter and linguistic scholar visited Champakulam in 1758. Thomas Whitehouse describes Du Perron's visit like this-23
"He appeared to have been charmed with it describing it as a lovely spot surrounded by water, having many cattanaars attached to the church, in which they maintained a perpetual religious service. The church, with its group of collegiate buildings, has at the present day an imposing appearance from the broad stream which sweeps past it".
Kallada Mooppan- Mar Andrews
Kallada Mooppan alias Anthrayose Kasseessa  arrived in Kerala in 1676.
He appeared in Champakulam claiming that he was a Patriarch appointed by the Pope for St. Thomas Christians.In 1677, Raphael Figuerede was consecrated as the auxiliary Bishop to Palli Veettil Chandy Metran which created a lot of unrest among the Catholic Syrian group. When Palli veettil Chandy metran was consecrated as a Bishop, The Catholic Syrian group was hopeful that there is going to be a lineage of native Bishops from Palliveettil Chandy metran to mark the end of the foreign rule. But when Raphael Figueredo was posted as the auxiliary of Palliveettil Chandy metran, they became disappointed and Kallada Mooppan came in claiming that he was appointed by the Pope for the St Thomas Christians. He stayed at Champakulam for some time but when the Carmelites proved that he had no authority from the Pope and as he appeared addicted to alcohol, people were unhappy and he had to leave Champakulam.
Whitehouse's accounts on Kallada Mooppan.24
"When Mar Thoma IV presided over the Syrian party, A man with name Andrew, styled himself a Patriarch, and professed to be the bearer of a brief from the Pope; but the Carmelite missionaries reported him to be nothing more than Jacobite priest, Paoli says that he was much given to Wine on which account, he was not very acceptable to the Syrians who adhered to Mar Thoma. He came to Malabar in 1676, lived first at Callurcada, and afterwards at Kallida, where eventually fell into the river in a drunken fit, and was drowned. In 1788, Paoli ascertains that these southern schismatics call him as kallida mooppan or elder of their church, and offered cocks and hens at his tomb".
There are other accounts also. As reported in Thulasserry Manapurathu Tharavadu History web pages,  Alummoottil Oommen Cathanaar in his diary mentions that Mar Andrews was mispercepted as a drunkard, but he was prescribed toddy for his stomach ailments.
Kallada  Mooppan is honoured by many sections even today as a saintly person and his feast is celebrated in Churches like Kallada, Puthiyacavu and Manarcaud.
In Niranom Granthavary,25M Kurian Thomas discusses the identity of kallada Mooppan well as below.
1. According to Paulinose de St Bartholomew, Anthrayose Kasseessa was a Jocobite Priest. That was why, Paulinose considered the consecration of Mar Thoma II & III invalid as both were claimed to be consecrated by Mar Andrews.
2.Karottuveettil Mar Simon Dionysius's manuscript p131 mentions Anthrayose as a  Patriarch and Mar Thoma I  and Mar Anthrayose Patriarch consecrated two Mar Thoma Metrans, but Kurian Thomas disputes this as Mar Thoma I passed away in 1670.
3. In a letter to Patriarch of Antioch in 1770, Mar Thoma IV describes him as a Bishop.
4. In an ancient wooden engraving found in Kundara church, Anthrayose kasseessa is pictured with the cap of a Chaldean Bishop.
5. Vettikkunnel Kudumba Charithram (History of Vettikkunnel family) comments that Patrose Thritheeyan Patriarch declared Anthrayose as a Nestorian.
6 Anquetil Du Perron describes him as a Nestorian.
Bishop Anjalose Francis
Bishop Anjelose Francis visited Champakulam in AD 1712.26
Bishop Anjalose Francis was a Carmelite who was consecrated by Mar Simon, a Chaldean catholic Bishop, as the Latin rite Bishops and the Jesuites refused to consecrate him.
Mar Gabriel
Mar Gabriel was an East Syrian Bishop came to Malabar in 1708. Majority of St Thomas Christians accepted him. Mar Thoma had only 22 churches at that time and 42 churches accepted Mar Gabriel.27
Later, Mar Gabriel was converted to Catholic side. In the unstable political state of Nasranis at that time, we have to assume that Champakulam church also accepted Mar Gabriel as there is evidence that there were Cathanaars from Chamapakulam also ordained by Mar Gabriel. Paulinose reports that there was a senior cathanaar from Champakulam and a Gheevarghese kathanaar of Pallipuram were among those ordained by Mar Gabriel.28
Those who know the traditions of St Thomas Christians understand that without a desakkuri, an ordination is not accepted by the community and as these priests were accepted by the community, we have to assume that the community at Champakulam gave desakkuri for those cathanaars to be ordained by Mar Gabriel.
Puthenpurackal Ikkakko Cathanaar- Persecution by Missionaries
The story of Ikkakko kathanaar is a unique example for Portuguese persecution.
Ikkakko Kathanaar was from Champakulam and was the vicar of Edappalli church. He was persecuted and killed by the European Missionaries accusing him of stealing a monstrance) from the church at Verapuzha.29
He was unlawfully kept in custody without food and died in prison. This infamous incident happened in 1787. This case was heard by a minister of the King of Travancore on ME 962 Medam 2 (1787) and the Carmelites were sentenced to pay a fine to the Governement.30
Paremmakkal Thomman Cathanaar, the Governor of Catholic Syrians
Paremmakkal Thomman Kathanaar, the Governor of the Catholic Syrians was a regular visitor at Champakulam church. He was temporarily based at Champakulam during his talks with Mar Thoma VI regarding the unity of Catholic Syrians and Jacobite Syrians. Niranom Grandhavari narrates his travels between Champakulam and Niranom with Thachil Mathoo Tharakan.31
Champakulam Church and the ecumenical efforts with Jacobite Syrians
Even the church was under Catholic Syrian group, there were priests of both groups resident there for example Anthrayose kasseessa. The division of St Thomas Christians after the Coonan Cross oath took place over a long time period until the Puthencoor officially adopted the West Syriac liturgy around AD 1789, both Puthencoor and Pazhayacoor were using the same East Syriac liturgy.32
[Slideshow- Wait for the pictures to change automatically or roll over for navigation bar]
As there were no difference in liturgy and practices and the division was about the leadership, there were no such a division at the community level and hence, the community had no problems with Priests or Bishops of the other group celebrating Holy orders. We can see in the history that many churches were mixed denominations- shared between Puthencoor and Pazhayacoor.
Champakulam church had a prominent position in the efforts for reunion of Puthencoor and Pazhayacoor. Paremmakkal Thomman Cathanaar and Mathoo Tharakan were the leaders of Catholic Syrian group. Mathoo Tharakan had a warehouse at Champakulam and hence Champakulam church became in important place for many discussions and negotiations with the Jacobite Syrians.
Niranom Grandhavari describes that "ME 966, kumbam 25 a group of Pazhayacoor including mampilli metran of kollam, Kochitty Kathanaar of Purakkadu, Narakathara Chandy Kathanaar of Kalloorkadu, Paremmakkal Governadore and fifteen Nasranis travelled from Purakkadu to Changannuur by a boat to meet Valiya Mar Dinvannasios. They celebrated the Kurisuvara Wednesday (Ash Wednesday) there on 26th and met with the Metropilitan and went to Kaloorkkadu.
ME 967 Kanni 20, they met in Kayamkulamm palli and because Mathoo Tharakan's daughter died, they concluded the meeting and Governodor went to Niranom, stayed there for 4 days and then to Kalloorkadu. The next meeting was planned on 25th vrishchikam at Niranom to celebrate the Qurbana in the Chaldean way. Kochitty Kathanaar and People from Changanacherry, Kaloorkadu met in Niranom to celebrate Chaldean Qurbana but that meeting was also concluded due to the death of Mathoo Tharakan's son.
ME 974 Edavam 29, after celebrating the Chaldean mass at Thathampalli, Mar Divanniose went to Champakulam and celebrated Qurbana there and on Midhunam 5, went to Puthiyakavu."33
The reunion of Mar Thoma VI was supposed to be held at Champakulam Church on the Sunday next to Puthu njayar- second Sunday of Easter in 1791 but due to the opposition of the Carmelite Bishop Aloysius, it did not happen.34
Rokos and Melus schisms
Bernard Thomas in his book Mar Thoma Christianikal, describes that out of 154 churches, 86 churches fully and about 30 churches partly joined with Mar Rokos. Bernard Thomas certifies that Champakulam Church kept away from Rokos and Melus schisms35
Porukkara Thoma Malpan
Porukkara Thoma Malpan was from Champakulam. He was one of the founder fathers of the Carmelites of Mary immaculate, the first religious order for men among the catholic Syrians.
Bishop Mar Thomas Kurialacherry
During the time of Nidheerickal Mani Kathanaar, the community fought vigorously for native Bishops and restoration of Syro chaldeac rite. The Community realised that one of the important factors hampering the community from getting a native Bishop was lack of priests trained in Rome. So the community sent Thomas Kurialacherry from Kalloorkkadu to Rome as he was from a wealthy family who can afford to take the expenses. Thomas Kurialacherry returned from Rome and eventually became the first native Northist Bishop of Changanacherry.36
Modern History
Today, Champakulam church is the mother church of most of the Catholic Syrian churches in Alleppey District. The Forane Churches at Alleppey, Edathua and Pulincunnu were formed from Champakulam.
Sisters of the Adoration of the Blessed Sacrament (SABS) is a religious order for women founded at Champakulam by Bishop Mar Thomas Kurialacherry. Orslem Church and St Thomas School were established in association with the SABS congregation. From this humble start, the Congregation has now spread to other continents also like Africa.37
Promotion of education -Champakulam church took initiative in promoting the education in the region by taking over the Government Lower Primary School in 1896. This was upgraded to a High School in 1950. Leo XIII Library was also formed under the initiative of this church in 1914 which has evolved into one of the prominent libraries in Kuttanadu now.38
The following Parish churches are affiliated to Kalloorkkadu Forane Church.39
Padaharam St Joseph's                              Chennamkari St Joseph's
Chennamkary Lourde Matha                  Nasrathu St Jerome's
Thekkekkara St John's                              Thekkekkara St Sebastian's
Pullangadi Holy family                             Kandamkari St Joseph's
Kondackal St Joseph's                              Narbonapuram St Sebastian's
Thottuvathala Sacred Heart's              Vadakke Amichakari St George's
Vaisyambhagom St Antony's               Ponga Mar Sliba
Other Institutions under the Church.40
St Mary's Higher Secondary School,
St Mary's Lower primary School,
St Joseph's Hospital,
SABS Convents at Champakulam and Kochupalli
St Thomas Upper Primary School,
Bishop Kurialacherry Lower primary and Nursery School,
Gagultha Monastery- CMI
S H Upper primary School,
Father Porookkara Memorial Junior College (CMI)
Conclusion
Champakulam Kalloorkkadu church has a very important place in the history of Catholic Syrians in Kerala. In 1887, when Syro Malabar Church was established for the St Thomas Christians of Syro Chaldeac rite, Champakulam church was chosen as one of the only seven Forane Churches in the Southern Kerala vicariate at Kottayam, considering the importance of the Church. Geographically, this is the whole of Southern Kerala south of river periyaar But sadly, today when the Syro Malabar Church has about seven dioceses south of river Periyar in Kerala, Champakulam is neglected as only a Forane Church.41
It seems that in this era of tourism, Champakulam is gaining it's prominence by attracting a large number of foreign tourists, thanks to the tour agents who exploit the history of the church. Now, there are so many tourism websites boasting Champakulam church as one of the churches established by St Thomas the Apostle himself. There are no arrangements from the church authorities to explain the real history and importance of this church to the visitors. The archaeological artefacts found in the church are unique which itself will be very interesting to the visitors. The church should take initiative in this area by providing an audio visual exhibition and presentation about the history of the church with a small fee which will be welcomed by the visitors.
____________________________________________________________________________
Author M Thomas Antony can be reached by email at – m dot Thomas dot antony at live.co.uk.
_____________________________________________________________________________
Footnotes
32 Responses
Participate – Your opinion-Leave a Response
NSC NETWORK is a non moderated forum. All are welcome to participate in the debates. We encourage comments, critiques, questions, additional information,corrections and suggestions. We also encourage participants to provide answers/ideas to questions raised on articles or on posts/comments.Links/Videos/Pictures of value to readers are most welcome.

We request that please stay on topic, respect other people's opinions, avoid profanity, offensive statements or anything else that might otherwise violate our policy. Please understand that we reserve the right to edit or delete posts/comments for any reason we deem appropriate. By submitting a post/comment here you grant this site a perpetual license to reproduce your words and name/web site in attribution.

Please note that NSC Network may, in our sole discretion, reject posts/comments for any reason we deem appropriate. Please try to post on relevant discussions and we may in our discretion move discussions to relevant threads.